Thoughts From the Sickos
Back in the Sicko Saddle
Hey Sickos. Sorry for the newsletter drought. Considering we've been putting out podcast episodes weekly since the pandemic hit, I hope you'll forgive us.

We hope you are all able to keep financially solvent and mentally functional, a thing that is not easy to do especially if you live in the worst country on Earth like we Sickos do. We remain somehow employed and our brains are as hardy and stalwart as ever (extremely not at all).

We also wanted to take this time to again mention we are planning on doing a Listener Mail Q&A episode. If there are any questions or comments you want us to react to on an episode, please share them here if you haven't already: https://forms.gle/VjxGXzPFCu1EuY7q6

We are hyped as hell to hear from you!

ALSO, REGARDING WEDNESDAY SICKO MOVIE NIGHTS: Today (4/29) I can't host da Sicko movie night because I'm recording another podcast I'm going to be a guest on. I will instead host it tomorrow night and stream Takashi Miike's incredible samurai action extravaganza 13 Assassins.

---
Tom Watched Evangelion

At the frequent and fervent requests of friends and strangers alike, I recently watched Neon Genesis Evangelion. It takes a lot for me to eschew watching an anime where a teen has a great time, kicks ass, and powers up, and it takes even more to eschew it in order to watch an anime where a teen has a bad time, fucks up, and powers down.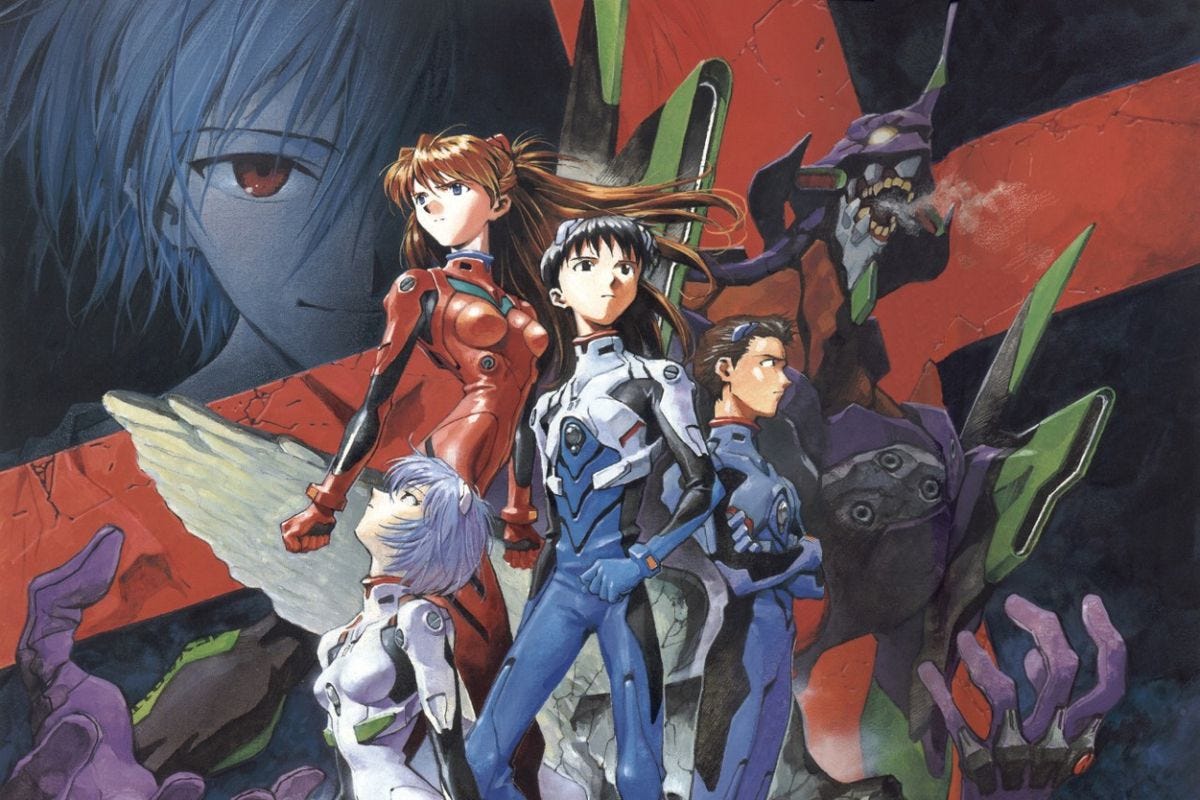 What Evangelion fails to grasp is that piloting a mech kicks ass? It's like the coolest thing you can do? It's insanely fun and if I did it, I would simply not suffer trauma.

Evangelion also posits that puberty is a nightmarish, unfathomable body horror where you lose your hold on your identity and develop nauseating fixations on Flesh and Fluid that sicken you even as you can't look away. This doesn't really follow because my puberty experience was going "oh damn they got porn on computers now??"

Evangelion does not embody Sicko Mindset, which you'll recall is the crucial acknowledgement that all things you like are pretty dumb actually. This is a show where teens make sinewy robots kill angels and then everyone turns to Sunny D. As a premise this is objectively dumb as shit, and yet the show has bought its own hype and refuses to ever admit it is anything but Important High Art.
When a show falls victim to this thinking, it often makes the mistake of going like "the lore and plotlines of this story are not actually important, what's important are the Themes and Emotions." As a result this fucking show never explains what the hell is going on. A guy has a gross eye growing out of his hand and it turns out to not be important at all. The show responds, "tut tut, silly otaku, just like you to obsess over sci-fi minutia instead of grappling with the larger questions of human existence." It's like bitch...you decided to show the eye hand!!!! You did that, not me!!!
People just say shit that makes no sense and you have no idea if they think it's good or bad. A character at one point says something to the effect of "once Adam and Lilith merge, it will bring about the Third Impact," to which I could only reply "how do you figure that, buddy?" The one Big Twist I knew from cultural osmosis (the true nature of the Evangelion mechas) does not actually come up in the series. I was sitting waiting for the big reveal to happen and it just didn't.
Evangelion stans will now be going like "it's all there, it's just implied rather than stated outright." Listen bitch. It's 2020 and the world is ending. The days where I can get enough food without working really hard are numbered. I do not have time for a show that only artistically suggests a silhouette of The Good Part. One Piece has Themes and Emotions too but it also has huge splash pages where Luffy punches a bad guy insanely hard and you know why he's doing it (the bad guy was Mean). Give me The Good Part front and center with arrows pointing to it.

---
Joe Played Hades
As I have alluded to on the podcast before, I am back on my bullshit and playing roguelikes. I was hoping that I could use quarantine to play longer games that I've put off due to time constraints, maybe rekindle my teenage love for JRPGS but no: my brain fucking demands 30 minute sessions where I lose. We did a delightful guest episode with Ian Preschel on A+ Anime and then he betrayed me by urging me to play Hades and here I am.
Hades is made by the same team that did Bastion and Transistor and it has the same plot as Hot Rod: you have to kick your dad's ass. You play Zagreus, the son of the Greek God Hades, and you want to get out of the underworld because it sucks ass. Hades doesn't want you to leave because the underworld is a struggling family business and he expects you to spend eternity doing spreadsheets about dead people. Meanwhile, all the Gods in Olympus are cheering for your escape. It's not clear why they are so pumped for your freedom. Probably because if you get to Olympus they can all watch Zeus turn into a goose and have sex with you.
For me, the most frustrating part of a roguelike is when you pick up a new weapon and it ends up being shitty and hard to play around. This was my biggest gripe with Enter the Gungeon: you pop open a chest and you get a gun that sprays goop a maximum distance of 2 feet.
Hades avoids this because your kit is powerful from the jump. Most roguelikes start with the player feeling like a naked baby yearning for death but here you feel like a strong guy with a cool dick right away. In Hades, every weapon has a basic attack and a special attack that kick ass and, instead of replacing those moves, the power ups strengthen them and add additional effects. For those curious, here are the weapons:
Stygian Blade: a sword with wide slashes and a powerful nova attack that knocks back enemies

Heart-seeking Bow: A bow that charges up single powerful shots and and can also spray a big fan of arrows

Shield of Chaos: a shield you can slap and rush down enemies with plus a Captain America-style throw. I hate this fucking thing.

Eternal Spear: medium ranged rapid jabs and a charged spinning attack; also you can chuck and recall it whenever

Twin Fists of Malphon: rapid fire punching with a powerful uppercut

Adamant Rail: It's a gun? It's literally just a fucking gun.
The game plays fast but the generous dodge mechanic makes everything feel doable even during bullet hell situations from bosses. I know this sounds like Roguelike Stockholm Syndrome but I have yet to feel crushed by RNG.
A huge part of the appeal of roguelikes is the randomness of every run but that same randomness makes them huge crimes against gamer humanity. That said, there are four design choices in Hades that allow the randomness to make the game feel fresh without also feeling like a malevolent force that fucks you:
After beating a room, the doors show you the reward you'll get after beating the next room. This lets you make choices and exert some agency on the trajectory of your run.

Power ups come in the form of Boons from various Gods and the game does the Slay the Spire thing where you are given 3 choices instead of being forced to get some dud shit you don't want.

Although each God has a decent size pool of boons and the offerings are random, each God more or less specializes in certain things. If you want damage over time effects and for enemies to be stumbling around slow and drunk, you pick Dionysus.

At the start of a run and after each boss fight, you can swap out a trinket that gives you passive effects so you can adjust course during the run. Most importantly, there are trinkets for every God that make it so they are the next boon you pick up!! If you want to play with a crazy lightning build you don't have to just hope for it - just pick the damn Zeus trinket at the start.
Am I making this sound appealing? If so, I'm sorry. Do not play roguelikes.
---
This week Run the Jewels released a new single and accompanying video. If you are a white lefty asshole you already like Run the Jewels so I'm not going to waste time explaining why they're good.
Instead this is just more evidence that Joe and I are doomed prophets who are constantly right about shit that sucks. In this song El-P literally brags about being "maximum stupid" which is basically just an advanced form of Sicko Mindset, and then Killer Mike talks about going Joker Mode.
Also this song has a reference to Gang Starr hanger-on Jeru the Damaja and features Gang Starr producer DJ Premier. This isn't really relevant other than you don't hear a lot about Gang Starr these days.