The Sickos Both Talk About Anime For Once
Also: watch The Skewer tonight at 7 CST
Tom here. You may have noticed no new episode today.

The reason is that we're doing a virtual edition of my live news satire show The Skewer tonight at 7pm Central and I was busy writing my piece for that instead of editing podcasts.
The Skewer whips ass! Original co-founder Eric Ruelle deserves thanks for making this show happen (and hosting as well). You can watch by going to https://www.facebook.com/pg/theskewerchicago/videos/ and it'll be live at 7pm Central tonight. No Facebook account is required (which is ideal because you shouldn't have one anyway). I am not exaggerating when I say every single person receiving this email will love the Skewer and you should tune da heck in.
Anyway, movie nights resume tomorrow at 8pm central (we'll watch Masaaki Yuasa's The Night is Short, Walk on Girl) and new episodes will resume next Weds.
---
Joe here. My stupid Marie Kondo tweet blew up.
I wrote it on the toilet. I channeled pure Posting Mana because I was literally shidding and farding.
I'm also going to start making 2 minute Sickos clips again for twitter and the future website. My plan right now is to go through each episode and jump around and find 2 bits that work as an easily digestible clip. Off the top of my head, I think the Catgirl on Ice Explainer from episode 1 and Sicko Science Spirit Bomb Math with John Hasier will be my priorities.
If anyone has any suggestions for some good dumb shit that deserves clip treatment, email or DM us!

---
Behind da Scenes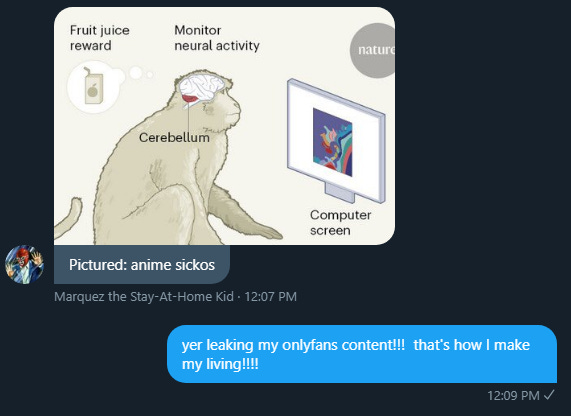 ---
Sickos Pickos
TOM'S PICKO: Carole & Tuesday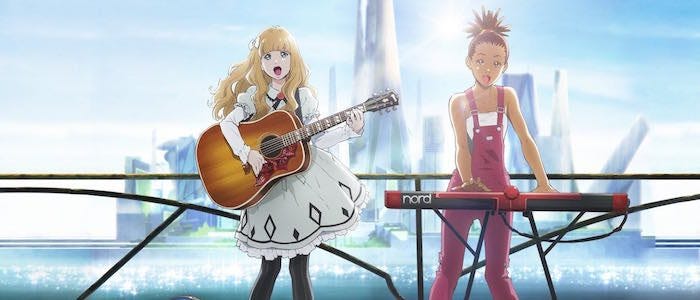 Turns out we recorded Anime 101 too early, because if I could do it now I would start that shit off by thunderously recommending Carole & Tuesday. I just finished the series a few days ago and I can't stop thinking about it.
C&T is the most recent series by director Shinichiro Watanabe, the guy who made Cowboy Bebop and Samurai Champloo. Watanabe is correctly considered one of the greatest living anime artists on the strengths of these legendary series that transcend the medium with their startling and inventive creativity. Anyway Carole & Tuesday makes those shows look like utter shit.
Watanabe has always been obsessive about music (see the soundtracks of his past work) and C&T sees it pay off in the best fucking way. The show is about two girls, Carole Stanley and Tuesday Simmons, who live on Mars in some vague future time. Carole is a refugee from Earth with no money. Tuesday is a sheltered rich girl running away from her mom who is Hillary Clinton. They meet and start a band, and that's the show baby!

This show's most genius move is that literally the first thing they tell you is that Carole & Tuesday eventually become the legendary best band ever Wyld Stallyns-style. I hate it when I don't know if the people I like are going to win. Tell me immediately that they win. I love that shit.
The second genius move is that the show is straight-up a musical. Almost every episode has multiple original songs or new arrangements of songs that appeared before (generally as Carole & Tuesday accrue money and collaborators). Normally songs in anime that the characters sing on-screen are the most depraved shit of all time and you have to mute the show as fast as possible before your heart stops beating out of protest. There's an original song in Dr. Stone that is one of the worst things I've ever heard in my life. This leads us to the third genius move: they hired actual native English speakers to compose and sing the songs and they whip ass.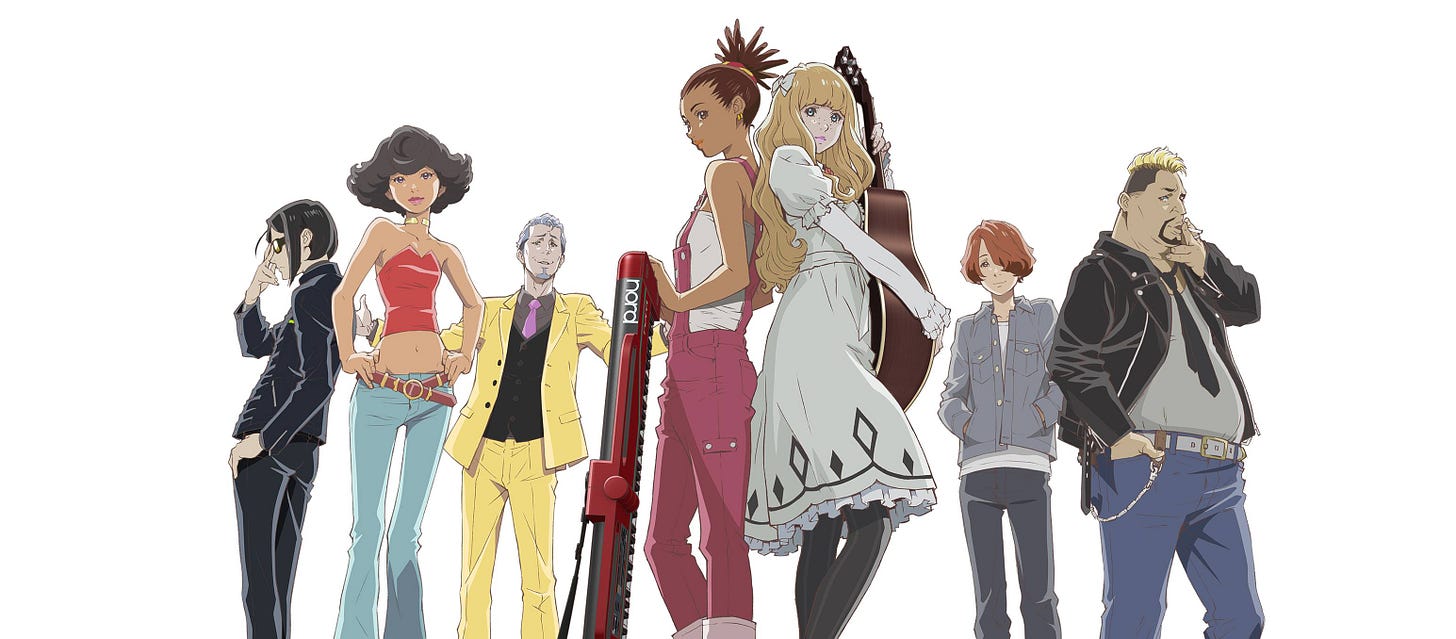 Almost everything I love in anime is here. Is there a huge ensemble cast of weirdo friends each with their own specialty? Yes. Is there a rival antagonist figure who ends up becoming best friends with the heroes? Yes. Do they train under a wise but eccentric sensei? Yes. Is there a tournament? Fucking yes! Is it explicitly and boldly anti-fascist? Yes. Is it pro-LGBTQ? Ehhh, as much as an anime can be I think? The intent is certainly there but from what I've seen I don't think any person who makes anime understands what "trans" or "non-binary" actually means. You would be forgiven for being put off by some of the sour notes in it but it's out of ignorance, not malice.
The main friendship between Carole and Tuesday is sparklingly gorgeous and pure. They are so deeply in love and the way their eyes meet when they harmonize makes me cry. The artists who perform their singing voices are absolutely beautiful together and the fact that they haven't formed a duo in real life is an extremely dumb move. When Tuesday first sees Carole (at that point a stranger) busking on the street, she begins weeping. We think it's just because Carole's music is so moving, but as Tuesday later explains, she cried because that's when she knew "I finally met her." The show never explicitly says they're a couple but every single one of their songs is a love song they sing to each other. One chorus goes "hold me now, I'm finally fulfilled, this is what my heart's been waiting for," so draw your own conclusions.
The supporting cast are all angels I will die to protect. I don't understand why more writers don't realize that you can simply make every character perfect and beautiful and have them achieve all their dreams and be happy. There are some characters who are actively malicious but they are few and far between, and they all either end up changing their minds and realizing C&T are great, or going to jail for being too mean.
The positivity and joy just oozes out of this show! No one thinks Carole & Tuesday are overrated. No one exploits them. They never fight among themselves. Everyone they come in contact with is nourished by their presence. There's a subplot that almost all music is composed by AI now which is why C&T's handwritten songs go so hard but who cares. The AI songs also whip ass. There is a big American Idol style show they go on for the tournament arc and literally everyone in it is amazing. They meet a reclusive genius Bowie/Prince type in an episode with no narrative purpose other than "this person invited us to chill at their house, let's go hang" and it's so goddamn tender and touching that I cried.
I cried a lot watching this show! The big climax (I'll keep it vague) is a seven-minute song performed by an impromptu supergroup, and I am a dumb fucking baby who gets tricked by magic tricks for first graders, so when an artist we met before shows up to take a verse I absolutely lose my shit and begin Hooting and crying even though the entire reason they made up that character was to have them show up in this song. I listened to the finale song twice today and each time wept real tears at totally different parts!
Also, hey, the songs whip ass? All the singers are sorta journeyman music industry types who aren't famous but know the game and there isn't a dud in the bunch. The lyrics are pretty much pap for the most part but who gives a shit, the vocal performances are soaring and stunning. Some music theory guy who knows what "fifths" are might be able to explain why the songs actually suck and I'm dumb for liking them, but folks, I was hungry for a New Song the same way I'm hungry for a New Fight when I watch Jojo's. Whenever Carole and Tuesday broke out their keyboard and guitar I'd salivate like a hog seeing the farmer reach for the slop ladle.
Visually the show is again top of the line. The character designs are wonderfully unique and restrained, the animation of the performances is awe-inspiring, and there are actually multiple people of color whose design looks actually correct and not terrible (including Carole herself).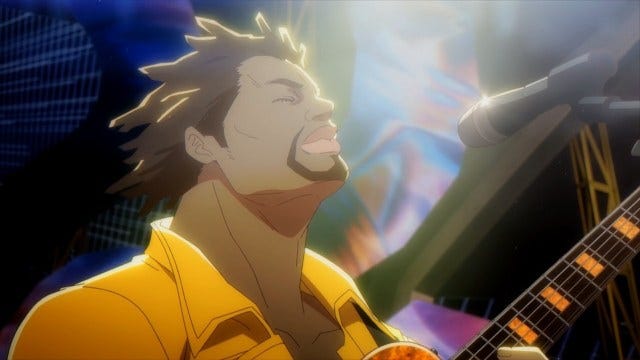 This is a show I will keep coming back to. Not only is the soundtrack the best in the business, but the whole thing is so delightfully focused on delivering joy and love and I think we all need something that does that well. The last episode ends on a big text card that says "CAROLE AND TUESDAY WILL CONTINUE..." and then another that finishes "IN YOUR MIND." At first I rolled my eyes at this dumb gag but like, yes? Yes. It will.
Please do yourself a favor and watch this beautiful show about love and friendship and hope and beauty and people you like working hard and achieving their dreams. It's 24 episodes and is on Netflix. Here is a taste to whet your appetite. I hope you enjoy it as much as I did.
JOE'S PICKO: When the main character gets Fucked Up
I'm working on a new quarantine habit where if I find myself staring at Steam unsure what to play, I force myself to pick up a book or watch a movie. I have put together a list of movies/anime/manga I should consume so I'm hoping I can defeat the decision fatigue from anhedonia. One of the movies on this list is John Wick. I watched all 3 of them in one day and my hootin' and hollerin' was sustained for over 6 hours.
I would never say something as stupid as the fights in John Wick are realistic (I did before rewriting) but the violence in all three movies is compelling because the action sequences are weirdly practical. John Wick shoots guys in the head and, if he can't do that, he wrestles people to the ground and then shoots them in the head. He's doing insane shit but it doesn't feel like anime mall ninja nonsense. Just a lot of struggling with goons to get control of guns and knives. John Wick is so powerful because he developed the perfect martial art: high school wrestling with a gun.
But here's the main reason I dug the movies so much: John Wick gets his ass kicked constantly. In the first movie, some guy picks John Wick up and throws him over a club balcony overlooking the dance floor. I have seen action movies enough that I am conditioned to expect the main character, when thrown from such a height, to break his fall by landing on a table or a well-placed awning. That didn't happen! He landed on his back and it made a bad sound and he rolled around dazed in immense pain because that would fucking hurt.
The plot of John Wick is just an excuse to have lots of cool shots of Keanu Reeves limping up to a hotel service desk covered in Murder Blood. I didn't count very carefully but I think he gets hit by a car six times throughout the course of the trilogy. At one point he gets hit by two cars back-to-back like Brad Pitt in Meet Joe Black.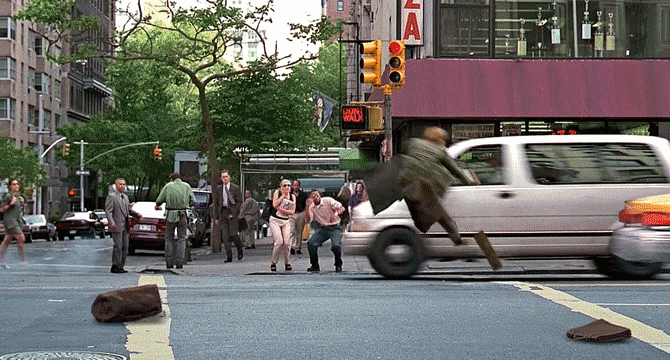 This rules because I'm sick of action protagonists who fight with deadly precision and are never harmed except for sexy cuts across the cheek or superficial bullet wounds in the shoulder. The Hallway fight in Old Boy rules for this reason.
This is why I am also absolutely ga-ga for anime fights where a character has some sort of regeneration power because they inevitably have to fight with a missing arm or some shit. Show me the battle damage! It sucks that Toriyama put Piccolo on the back bench in Dragon Ball because the way Namekians grow back after getting chopped up was cool and underutilized. In Super, Piccolo retrains Gohan who is weak after life as an Adjunct Professor making $4000 a year. During a spar, he lets Gohan sever his arm and then proceeds to blast Gohan from behind using that severed arm. I want more Piccolo and I want him doing more of that.
Even though I am an awful manga sicko, Hellsing is the only physical manga I own. Why? Because in every fight, Alucard, who is a vampire with powerful regeneration abilities, gets filled with bullets and just deals with it. Why would you dodge if you could just turn into centipedes and reconstitute yourself? In Vol 2, Alucard faces off against an incredibly fast vampire who shoots him in the head and dodges around the room. Alucard doesn't bother getting out of his chair for most of the fight.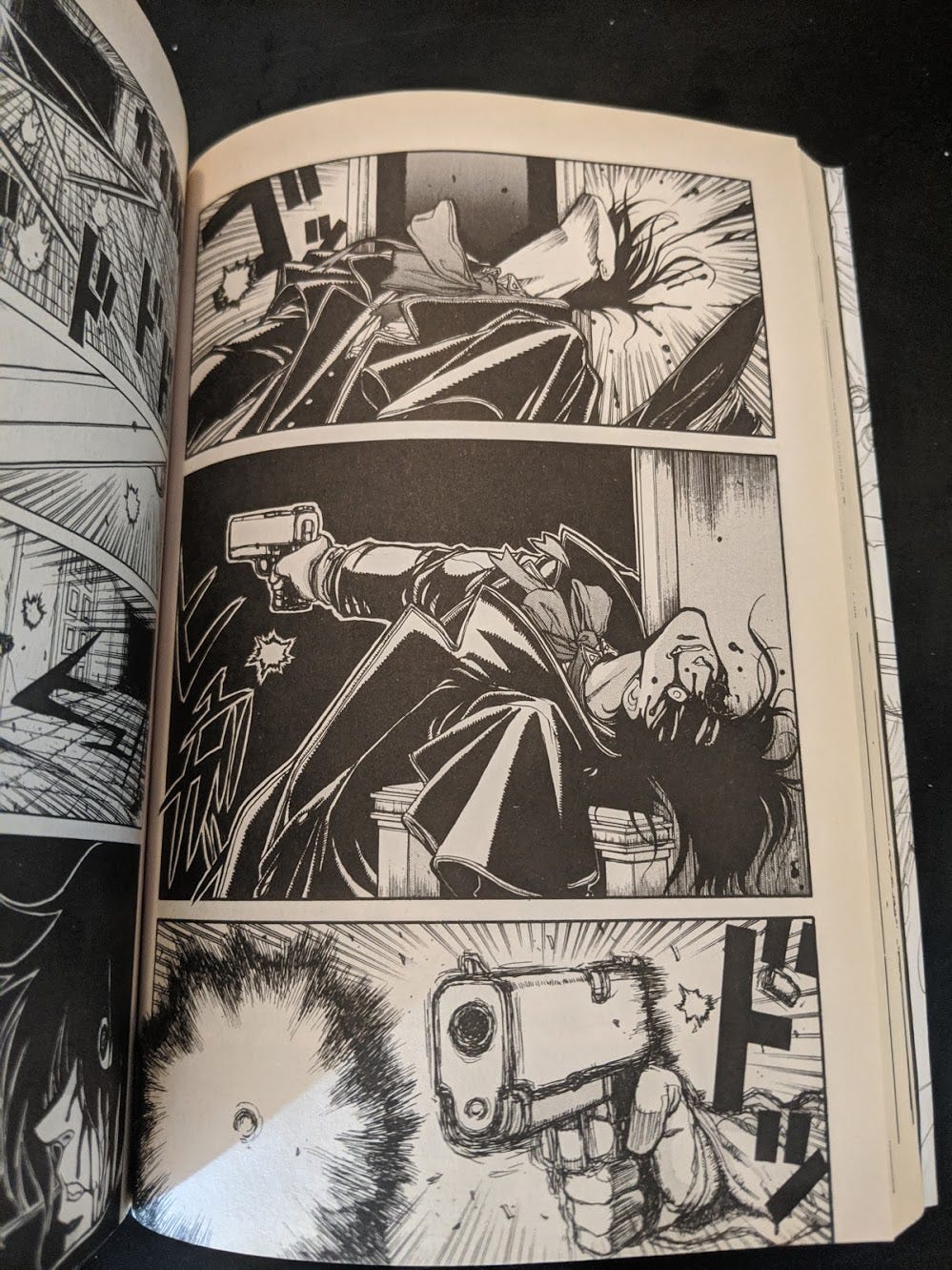 One Punch Man has an S-Rank hero named Zombieman that deserves way more panels for this same reason. His power is that he can't die and his body grows back no matter how fucked up he gets. What makes Zombieman incredible is that he's not really that good at fighting. He's competent but he never bothered to become a master brawler because he can't die. He has no offensive powers beyond his regeneration, so he's basically just a normal guy walking around with a glock and a hatchet who wins fights by waiting for the bad guy to get exhausted from stunting on him for a solid hour. Zombieman has depression and he rules. In retrospect, this is just the boxing episode of the Simpsons with more gore.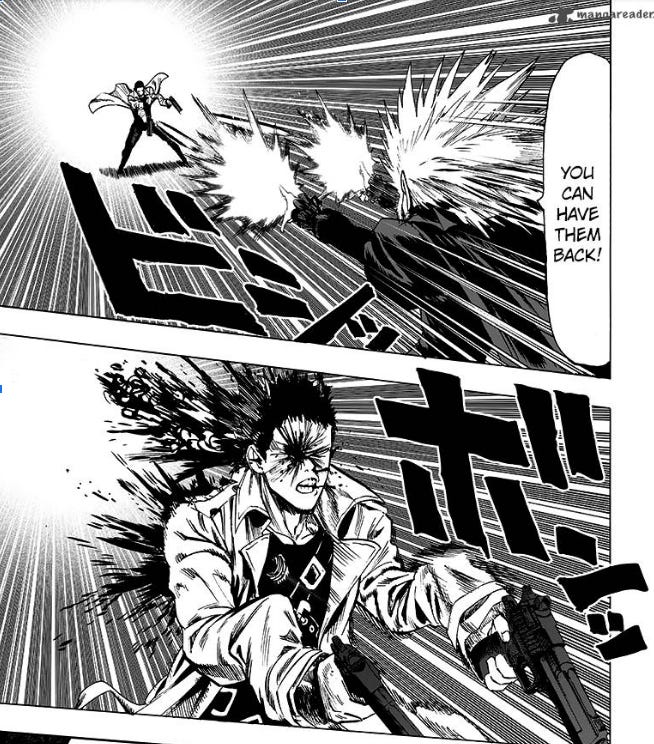 Dodging stuff is no longer cool. The Matrix sucks to me now.