The Anime Sickos Newsletter Returns
We forgot to do it for a while
Hey Sickos, it's been a while since our last newsletter. I think you can guess the reason: depression. Who can blame us? Not you, that's for sure.

But now, we're back in text form! Not much actual news to supply in this newsletter, other than that we will continue to produce episodes of the Anime Sickos podcast.
We will also continue to host weekly Sicko Movie Nights at 8pm every Wednesday on Kast (link: s.kast.live/g/13l2rf2hwc3 ). Tonight we're going to show Vampire Hunter D: Bloodlust. I have never seen it but the director of Redline was a key animator and I hear it's got vampires in it.

Anyway, on to the jokes and such.
---
Tom'z Korner
A few newsletters ago we did a bit where each Sicko made a representative playlist and then the other roasted it track-by-track. Judging by reader response, you all hated this and found it tiresome.

Fine. Fair enough. That said, I would like to turn your attention back to a joke Joe made in that piece:
Tom's favorite joke in the world is to insist something is normal...His idea of a satire is to read a bunch of crazy shit and say 'folks, that's normal.'
Let's not pussyfoot around here: this is so fucking true that when I first read it I had to lie down on the floor for an hour.
Since reading this, every time I go back to the well and say that a crazy thing is really normal, I get hit by an involuntary spasm of psychic damage as this paragraph shoots through my mind like I got tased.

This wouldn't be so bad except it happens literally every day of my life.
---
Tom's Long Review
I've been watching tons of short anime during quarantine, way more than I'll get a chance to discuss on the show, but there's one I didn't want to let slip by without discussion.
Silver Spoon is a show about a kid who goes to farm high school where he learns about farm. It's 22 episodes and I cannot stress enough to you that it is one of the best shows I've seen in years.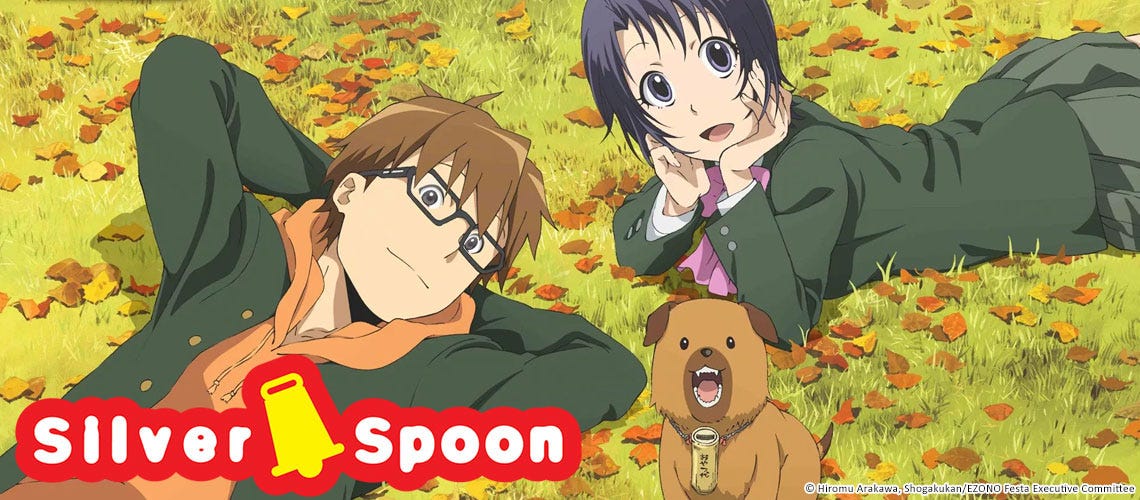 Like every anime about a specialized high school, there is a cast of goofy and lovable students and wacky but wise teachers, and it presents the school's special focus in an idealized way that makes it seem like the dopest thing in the universe. A winning formula then and now.
Where Silver Spoon takes this formula to the next level, though, is its willingness to take an unflinching look at the ways the business of agriculture is not idealized. Sure, the work is rewarding and forms bonds of deep friendship, but it's a business under capitalism, and as a result is exploitative, cruel, and hopeless. This sounds like it contradicts the above paragraph and makes the show a downer, but it truly doesn't. The show handles tone with a delicate hand that allows "farming is the purest joy and coolest thing" and "farming is a dead-end career that only turns a profit if you ruthlessly value efficiency over quality" to both ring true at once.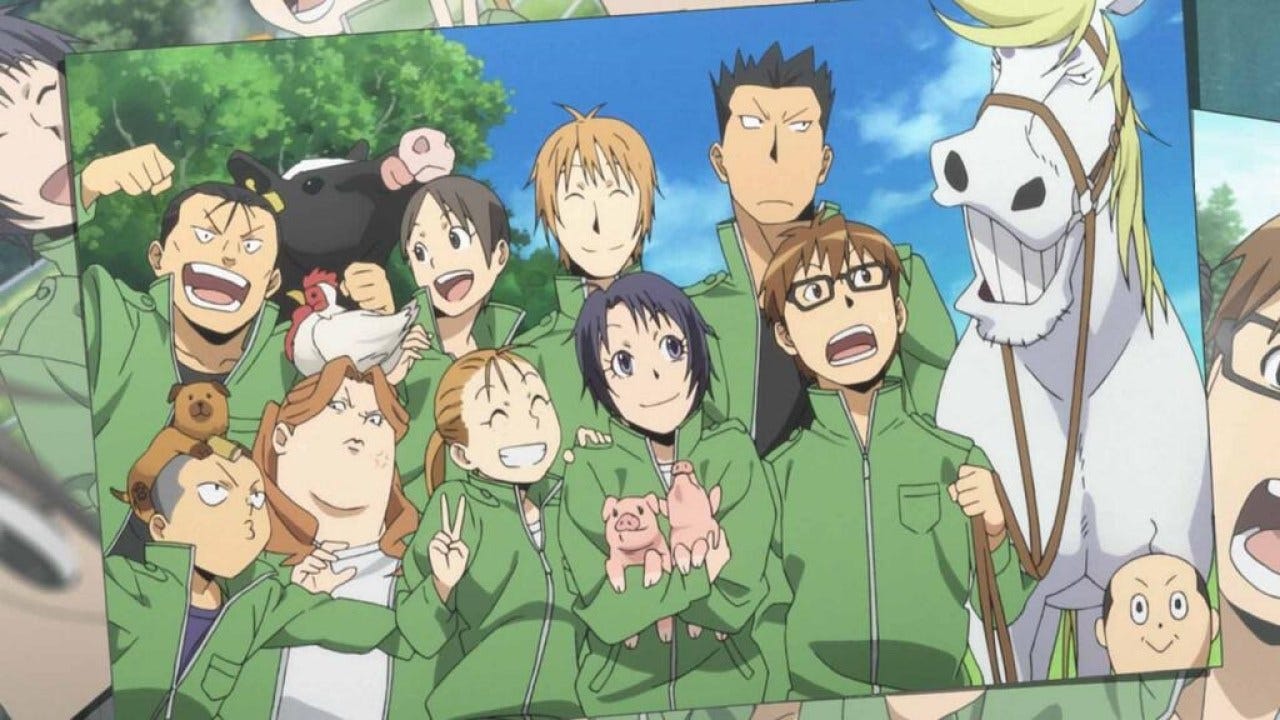 Our hero is Hachiken, a goony city kid whose complete ignorance of farm life means that everyone is constantly telling him farm exposition. Hachiken owns and I love him. In his character we get a microcosm of the tone balancing act I discussed above. Hachiken is loyal, generous, caring, sweet, and any number of other positive adjectives. He's the kind of charming protagonist you can't help but love.
He also is only at the farm high school because he had a total mental breakdown. Hachiken's father, in typical anime fashion, is brutally strict and only interfaces with his son in order to ensure he is optimizing his future earning potential, forcing him to attend cram school and constantly score top grades, all at the expense of Hachiken being a person and living a life. His enrolling in the farm school is basically running away from home. His willingness to help out his classmates with their projects is not just him being a good friend, it's him running away from the emptiness he feels inside of himself. Everyone else at the school comes from farming families and has specific goals they're trying to achieve. Hachiken feels like he's just beginning to live his life and is ashamed that he never had a chance to "want" anything. This isn't me reading too much into the show, it's all stated very explicitly!
In addition to teaching us, info-tainment style, about the mechanics of running a farm, Hachiken's ignorance allows the show to grapple with unanswerable ethical questions about the supply chain as he forces the class to discuss topics that kids raised on a farm would never think to ask. Namely, a background arc across the entire first season revolves around the ethics of eating meat. Hachiken, like any city kid, blanches at the thought of killing and eating one of the animals he and his friends take such pains to care for. His teachers and classmates are baffled, telling him this kind of thinking is unproductive and killing animals is a reality he is going to have to accept in order to make any money as a farmer. When a sow gives birth to a litter of piglets, his teacher is ready to kill the runt as it will not be profitable to raise. He adopts it on the condition he raises it entirely on its own. This piglet is so fucking cute. His name is Pork Bowl and Hachiken is in love with him, and Pork Bowl gives him lil kisses.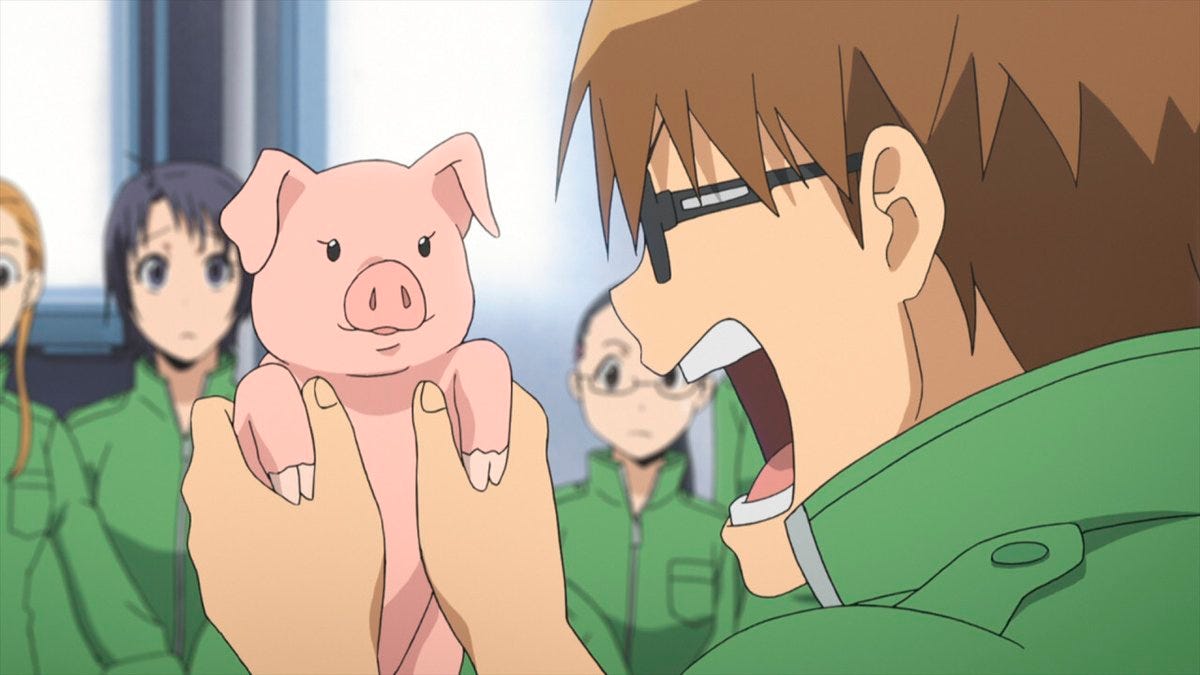 Folks he fucking eats Pork Bowl. He cries. I cried. You'll cry. Did he do the right thing? Did he betray Pork Bowl? I don't know. Should all meat eating be considered unforgivable murder? Many think so! Silver Spoon doesn't try to tell you what's right, but it also doesn't lie about how difficult a question this is, and how many farmers don't have the luxury of sparing lives.
Also in typical anime fashion, the kids achieve much through hard work. But they also fail instantly as they crash into the wall of capitalism.
One kid, a star on the school's baseball team, is from a family ranch where the cows are treated like members of the family. One day it's revealed that oops, the ranch doesn't make any fucking money and they're bankrupt. Turns out being nice to the cows instead of selling them for meat as soon as their dairy output slows is a decision capitalism will not permit. Turns out the kid was only allowed to go to school in case he made it to the pros with baseball and could finance the farm that way. Turns out, nope! His family is fucked and has no money and no property.
Hachiken tries to rally the kids to do some kind of shonen anime project to Save the Day but they have to tell him, buddy, this just happens. The kid accepts that he will have to toil the rest of his life to support his debt-ridden family. All the other kids understand implicitly that their family farms aren't too far from this fate. The only student whose family is thriving runs a brutal factory farm. It's fucked!
Throughout the series, Hachiken grows as a person, turning from a people-pleaser just trying to escape the void that was his old life to a self-possessed person with his own hopes and dreams. In the finale he confronts his father with his True Feelings. His speech is extremely anime. If you've seen anime you've seen this speech. Anyway, his dad is like you are a dumbfuck. You should have gone to cram school. You won't make money farming and you're wasting your life. It's fucking devastating, but is he wrong???
God, this show whips ass and I'm so sad it never got a season three. I think I ought to read the manga—it's by Hiromu Arakawa, better known for Full Metal Alchemist, and honestly this is probably the only thing that could make me give that series another shot. I bounced hard off of Full Metal Alchemist: Brotherhood, I couldn't get into it at all and was baffled by the hype. But the subtlety, nuance, and depth of Silver Spoon is just so engaging that I think I need to try it again.
Fuck! Silver Spoon owns.
---
Joe's Rapid Reviews
Here's a bunch of things I've put in my brain in recent weeks to stave off the forever darkness that gets a boner when my mind is idle.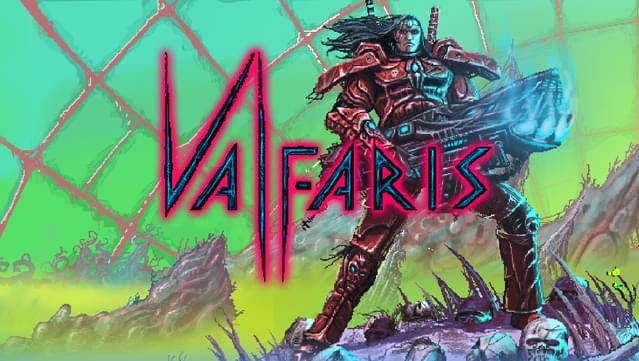 Valfaris is pretty much heavy metal Contra. In addition to the important gaming mechanics of running and shooting, it has a separate attack button for melee, plus a blocking/reflecting mechanic. If you've played Contra, you might think melee sounds pointless because you can just mow down enemies at close range. Well, what if I told you that hitting freaks with your laser sword filled up a bar that can be used to shoot bigger guns? That's video games, baby. This game is hard as shit and beating sections that kick my ass never quite feels like a victory— feels more like dragging my battered body across the finish line.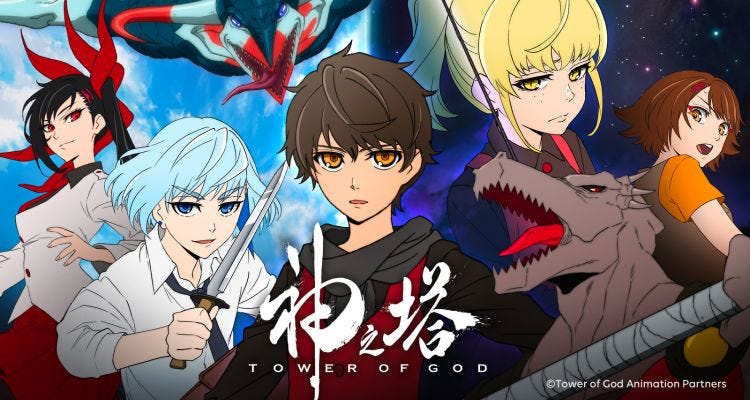 Tower of God is an anime adaptation of a very popular Webtoon. A Webtoon, as far as I can tell, is manga where you scroll down instead of turning pages. I am enjoying this so thoroughly that I get impatient waiting for new weekly episodes to drop. I refuse to read the Webtoon because I spend enough of my life scrolling. Without going into great detail, the premise of the show is that there's a big ass tower that's basically a huge vertical Hunter's Exam and if you climb to the top, you can wish for whatever you want. Every episode a character says some shit like "I gotta climb the tower." Without spoiling anything, the most recent episode, 13, had a big twist that made me say "Damn, they gotta climb the tower."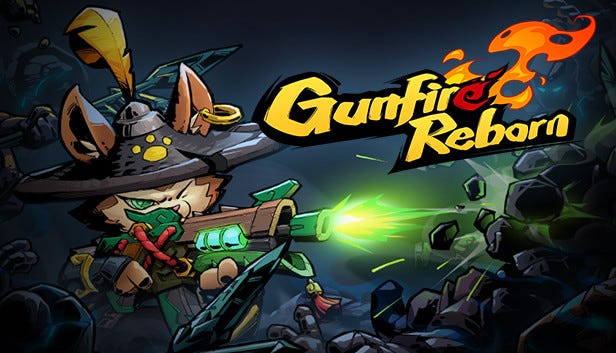 Gunfire Reborn is a FPS roguelike in Early Access that plays like Borderlands but you don't have to hear jokes about Reddit or wander aimlessly around a big map. There are only two characters at the moment but the one available from the start has smoke grenades that give enemies PSN damage which I'm a big fan of—I generally try to build around the grenades if a run allows it. I haven't even seen the boss of the second zone yet, which sounds frustrating but every time I die I earn a currency that unlocks permanent upgrades on a skill tree which is dopamine city.
This video of a guy with beans in his computer. Here's my critical textual analysis: shit's funny.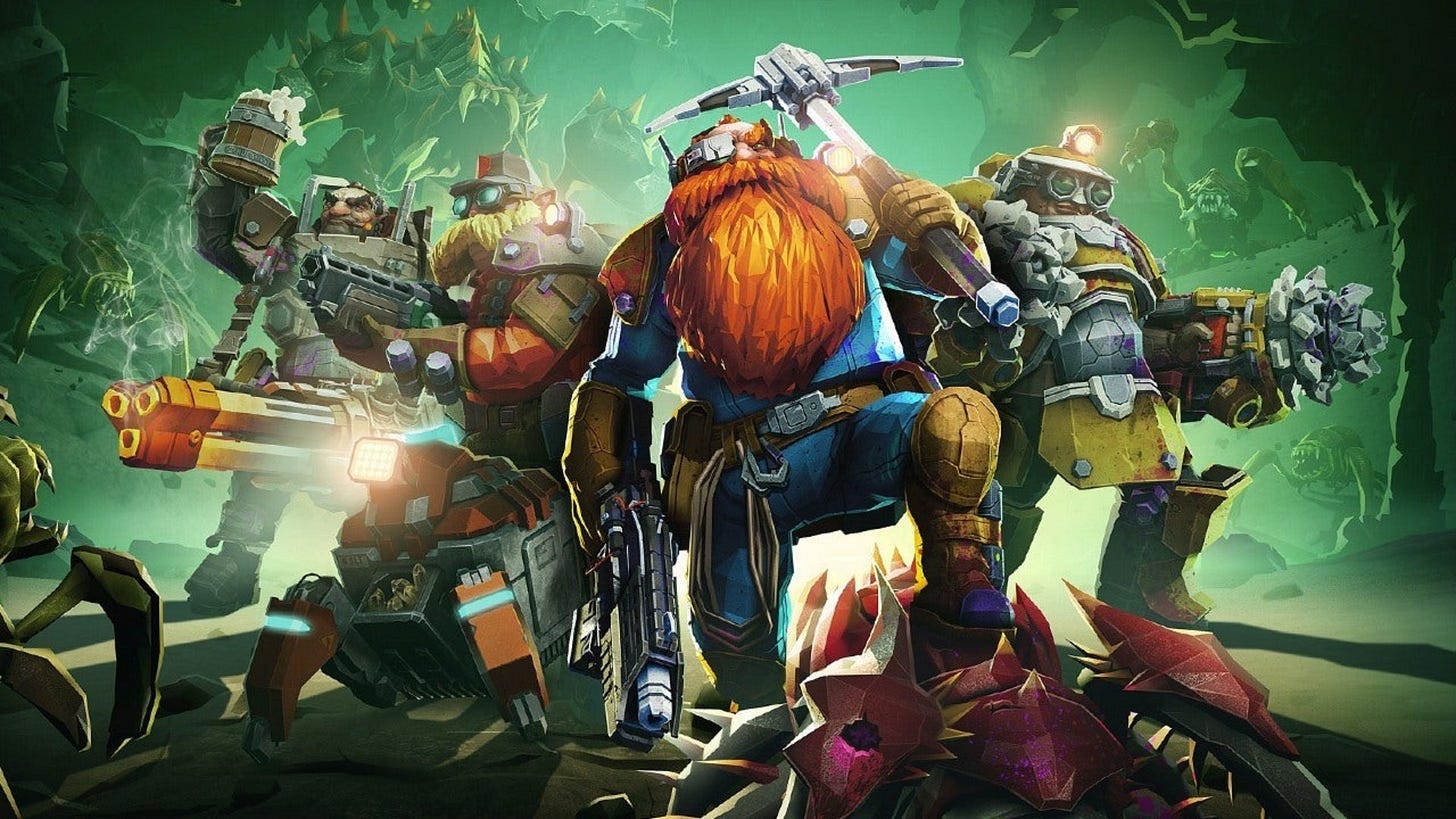 Deep Rock Galactic is a great co-op game that recently left Early Access that Sicko Scientist & guest John Hasier gifted me. I haven't played it with him yet because I'm practicing so I don't embarrass myself. You play as space dwarves working for a huge interstellar mining corporation that is horny to steal your surplus labor. Every mission involves digging and navigating dark interiors of asteroids to extract commodities while huge bugs who hate capitalism try to murder you and your friends. There are four character classes and they all sound like Shrek. Every piece of terrain is destructible and I've been playing the Driller class, which, as the name implies, is very good at digging tunnels for your homies. The Driller also has a flamethrower which kicks ass.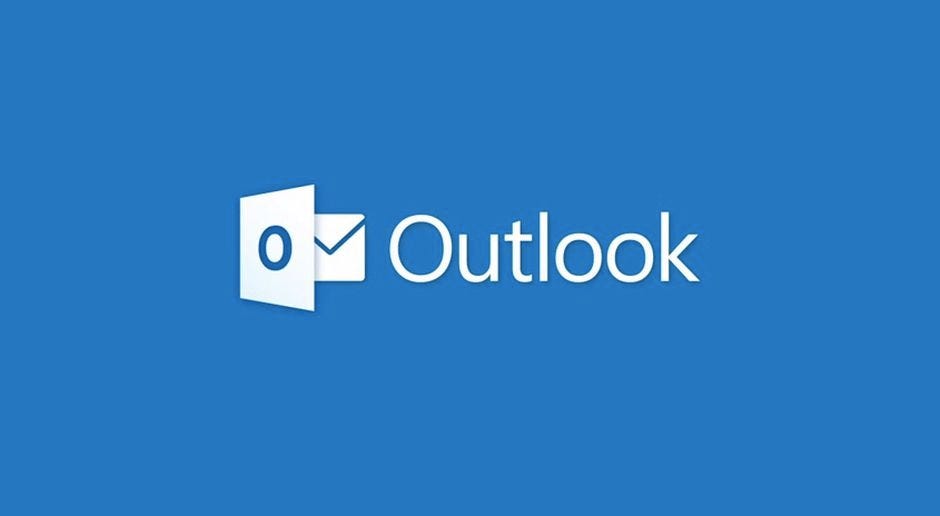 Microsoft Outlook is a game I am forced to play for 40 hours a week and it sucks ass. Someone put a 2 hour meeting starting at 8 AM on my calendar that I didn't see which felt very bad. I was 40 minutes late because I was making pancakes 2 feet from my laptop.