Sicko Musicology
The Sickos forgot it isn't 2004 & are sending packets to Pitchfork
Hey folks! Even though we released an episode on an off-week today, we still have a delightful new edition of the newsletter as well. Aren't we generous sickos? Aren't we just the best? Oh honey. We are.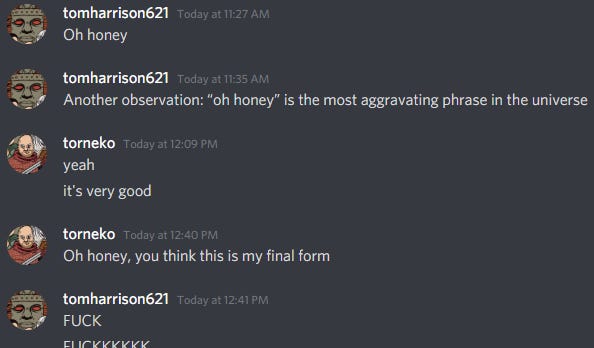 ---
What are the Sickos Listening To?
JOE: The Quest for Dreamcast Tunes
Sometimes I get preoccupied with a very specific aesthetic and lately I've been on an absolute tear looking for music that feels like I'm playing a Dreamcast game. My criteria is twofold:
It has to be both jazzy AND funky

It has to make me feel like I'm navigating a menu
For my research, I'm using Marvel Vs. Capcom 2's character select screen as my baseline. Please be careful while listening: the track is repetitive and very addicting. If you listen for longer than 2 minutes you'll be compelled to sing the single lyric or do mouth trumpet sounds for the horn part.
This is the perfect music for selecting X-Men in a pre-9/11 world. When you hear it, it really feels like ICE doesn't exist because the Department of Homeland Security has yet to be formed. Your Blockbuster still has that Pokemon Snap station where you can print stickers of pictures you've taken in-game.
The closest DNA match I've found for Dreamcast DNA is City Nightlife by architecture in tokyo.
This is all I listen to at work now. It makes me think I'm choosing to play as an overall-wearing alligator in a Japan-only cooking rhythm game that looks like Jet Set Radio.
A close second is this 2006 arrangement of Outrun's Magical Sound Shower. Outrun, as you probably know, is a game about driving dangerously as to make the babe riding shotgun as horny as possible.
While the track is funky and jazzy it most definitely does not feel like menu music. This is strictly music about driving a big red car through some dope ruins. There are seagulls on the horizon.

TOM: The Fallen Crimson - envy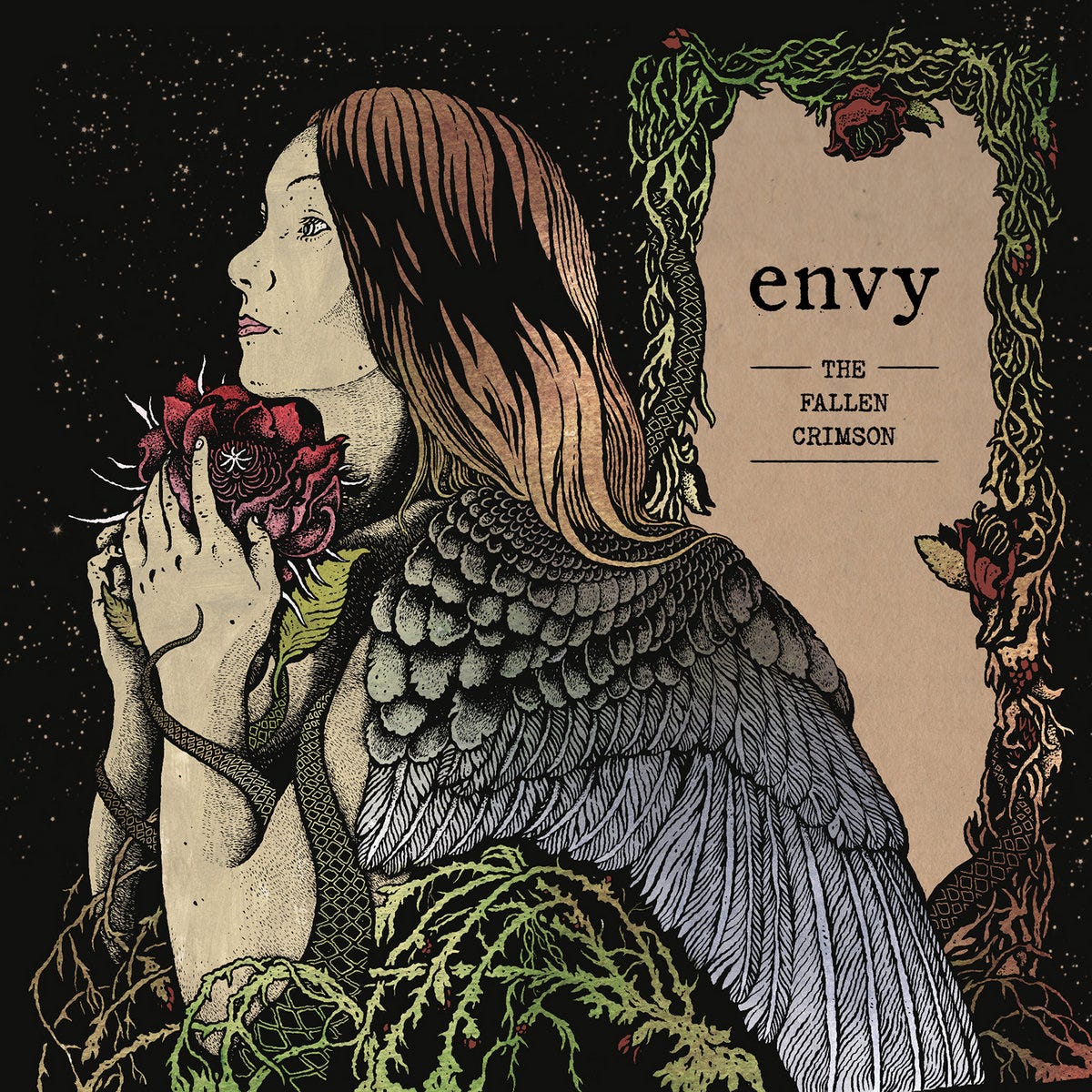 I don't claim to know anything about metal. To me, every metal song sounds exactly the same. When the singers do that thing (you know the one) to me it could be the same vocal track laid over every song by every band. If you told me that actually it's just a stock sound effect like the rap air horn and actually no metal band has a singer I'd be like OK that makes sense.

Whenever I know the name of a metal band that is not one of the three ones normal people have heard of (Metallica, Slayer, and the third one), it is a sign of the simulation breaking down. It's like when an NPC is T-posing in the village square in Skyrim. When I know the name of a metal band and am an actual fan of them? Like when I perk up and go "oh goody, a treat for a sweet boy" when their new album comes out? That's something that's only happened once. I don't even remember how I heard of them, but I honk like a goose whenever I listen to envy.

The thing about envy is that they whip ass. They are a Japanese post-rock screamo metal band, which is a whole lot of words configured in an order designed to maximize confusion and inflict critical psychic damage upon reading.

What this means is that a typical envy song will feature a minute or so of quiet and contemplative instrumentation that sounds like the gossamer hem of an angel's robe dancing in the sun while the vocalist does like an extremely impassioned spoken word poem over it. Then it will transition into a big roaring metal song with the standard screamed vocals while occasionally layering over those more delicate flourishes and/or just dipping back into the quiet section entirely. It is the simplest sleight of hand trick and I fall for it every time. "Ah, this is an atmospheric song with beautiful chiming guitars. Yes, this sounds like Explosions in the Sky. Most tranquil. Ah, this guy is speaking some words very quietly. This is a poem or something, I'm a genius for listening to it." Then it turns to a metal song and my monocle falls into my caviar and I go to call the cops but my finger lingers over the "1" as I go to press it a second time and a smile creeps over my face as I hang up the phone. I take off my tuxedo jacket and put on a shirt that says "Party Time."

If you are looking for a more nuanced critique than this, I am afraid I am too dumb to provide it. Unfortunately my inability to tell metal songs apart also applies to the band I really like. I can't tell you which albums of theirs are best since to me they are all the same. All I know is they're all really good. I also have heard people talk highly of envy's lyrics which is absurd to me. First, no song has ever had good lyrics. Second, no metal singer sings lyrics in a way I can parse. Third, if anime openings have taught me anything, it's that no Japanese lyrics translated to English can ever be good. The English title of envy's last record was "Atheist's Cornea." Do not tell me the lyrics are good. This is simply foolish.
That said, if you have seven minutes to spare, please give this song a try. It's lighter on the metal half of the equation than most of their work and it's not from their new record, but nevertheless I think it is the most elemental representation of envy's whole deal. It is gorgeous, aching, and powerful. I hope you like it!

---
Behind the Scenes Update
You may remember at the end of erica dreisbach's Guesto Mode appearance that she announced her goal for 2020 was to get a mysterious "Kevin" to say that he loves her.

Well, Joe and I know who this Kevin is and are in fact good buddies with him, and here's what he had to say after the episode dropped: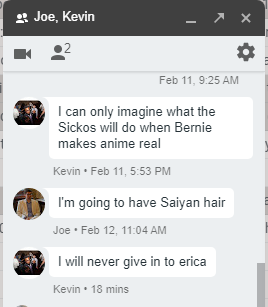 ---
Tom'z Korner
Real heads know I love bad rap. I don't mean normal rap music that isn't good. I'm talking weapons-grade bad. Here's how it goes: Great rap? That's fantastic, we love that. Good rap? A treat to hear. Mediocre rap? Who cares. Null value. Bad rap? Yuck! Don't play it! But really bad rap? Well...that's good again!
[Joe'z Knoat: When it comes to art consumption, Tom and I have about 85 percent overlap. The thing he does not understand about me is that I read non-fiction books, an activity he is too dumb for. The one thing that I cannot relate to, no matter how much I try, is his love for corny rap. You know how when you look into a dog's eyes, you get the sense you are peering into the soul of a friendly creature but one that perceives the world so differently that trying to understand the dog's lived experience is an impossible task? That's how I feel when Tom sends me a link to awful rap and he wants to talk about it.]

Two of the best examples of bad rap (and hence two of my favorite songs ever) are Lou Reed's "The Original Wrapper" and Dee Dee Ramone's "Funky Man." It's one of those examples of divine providence that within three years of each other, two icons of the New York punk scene both decided to show their whole ass to everyone and record the worst music of all time.

Lou Reed is a frog-faced nerd who can't sing. His entire appeal as a musician is having an aura of being a cool cutting-edge artist. His famous band the Velvet Underground had it in spades and kicked ass. His first few solo albums were all glammy and had David Bowie working on them. Then, he made a huge fucking mistake and became an old person. Once you have to drink psyllium husk to poop correctly you can never be cool again. The correct move here is to become extremely weird and make unapologetically impenetrable experimental music like Scott Walker (not the politician). What Lou Reed did is decide that actually I must become a 44-year-old rapper and I will be cool once more.

It didn't happen! This song blows ass. In the video Lou wears a fedora with glitter on the rim so when he shuffles around like a dang mummy to the beat big sheets of glitter fall across his face. His face is of a middle aged guy who loves the deli. It's terrible.


I think the song is about wearing condoms? It is absolutely incomprehensible. A recurring line in the chorus is "better check that sausage 'fore you put it in the waffle" which is actually the line written in the Black Tongue around the One Ring in Lord of the Rings. At one point he says "lugubrious" and hits it so hard it sounds like "LOO GOO BREE UHS" and it's enough to kill an elephant.

The beat sounds like if you bought a Casio keyboard from Spongebob at a garage sale and pressed the button that says "CLOWN MODE."

Hilariously, the album version of the song is a complete re-recording that does not sound like the version from the video at all! The beat on the album is way less embarrassing, and is overall a lot faster and harder-hitting. This is a double-edged sword though as it forces Reed to rap faster which he does a very shitty job at.

If "The Original Wrapper" sounds like a talented artist making an extremely misguided foray into a genre that he has no facility for, Dee Dee Ramone's "Funky Man" sounds like shit.

While Lou Reed just put a fun lil experiment on one of his albums, Dee Dee Ramone quit the Ramones (!!!) changed his stage name to Dee Dee King (!!!!) and claimed he was permanently rebranding as a rapper (!!!!!). You may be forgiven for not knowing who exactly Dee Dee Ramone is, because he plays bass and also the Ramones suck shit and are just interchangeable warm bodies filling out their Punk Rock uniforms while they play music that blows.


Funky Man is the audio equivalent of that first couple of seconds after stepping on a train car and smelling a horrible stench where your soul leaves your body and you can't even comprehend what's going on. The beat is someone rubbing their guitar on a washboard.

The video features Dee Dee Ramone looking awful living in absolute squalor and being dirty. It sucks ass. For what is ostensibly the debut single of a new, post-Ramones career he spends like 1/3 of the time telling you about how cool it is that he was in the Ramones, with lines like "I play the bass in a punk rock band," "I'm the one who sings you Warthog" [Warthog is a Ramones song Dee Dee sings], and most hilariously considering he changed his name to Dee Dee King, "my name is Dee Dee Ramone."

Like all white people in the 80s, Dee Dee has no fucking idea what rap is, and assumes you just kind of talk in a weird way and try to have single syllable rhymes at the end of most lines. Even something like "My name is Dee Dee and I'm here to say / I've quit my band in a rapping way" would be more proficient than what we get. At one point, apropos of nothing, he says "when we sell the Camaro I will be glad" making this possibly the only rap song where the rapper pauses in the middle of the song to try to get you to buy his car.
Funky Man is so bad and speaks so poorly of Dee Dee Ramone I am surprised he is able to play bass. His voice is so shredded and abrasive that I struggle to imagine how the audio engineer didn't call 911 during recording. It's honestly depressing how truly awful every single aspect of this entire project is. I almost feel bad dunking on it since Dee Dee was inspired to record this after being introduced to rap while in rehab to treat the heroin addiction that eventually claimed his life. But on the other hand, this shit sucks!
If you're waiting for me to do the turn where I start explaining why I find this good, keep waiting! I just do.