Holy Shit, it's the Sickos Newsletter!
Your favorite anime boys are going Sicko Mode in your inbox
Hello fellow sickos, it's the Sickos.

We wanted to take some of the newsletter space this time to talk about the state of the show and what we're thinking about for the future.

First, the reception has been absolutely amazing. It feels incredible to see yr stuff find people who really appreciate it. We've always thought our work is A+ genius shit that everyone should love but this is the first time our audience has been in agreement about this and it fucking whips. A big time confidence booster and incitement to keep it going.

Our lovely listeners are living proof that this podcast slaps. That said, we've been thinking about how we can grow our reach somehow so we can scale up for more stupid-but-great Sicko content. The issue is that asking someone to listen to a podcast is like asking them to drive you to the airport. It is actual violence to make this request and everyone will hate you for doing it. And it's even worse when you ask people to listen to your podcast—that's like asking someone to carry you to the airport on their shoulders.

We had an idea to reward Sickos fans who provide screenshotted proof of pitching the show to a buddy, but aren't sure what reward would be good—like for sure we have stickers, but maybe you get to ask us to write about something in the newsletter? Pick a topic for a segment on the show? Personalized book/manga/gaming recommendations tailored to your interests?

We've also, of course, talked about going to a Patreon model to fund the show. Patreon is really the only option for podcasts not run by celebrities, so if we want to expand the show (go weekly, do bonus episodes, etc.) we'd need a Patreon fueling that. We always pay guests and will happily do so out of pocket, but if that could be subsidized by Patreon, that would be rad too. The issue here is the same as above: we have to grow because only a fraction of any audience is able/willing to donate and we don't want to start up the Patreon account and have its success hinge disproportionately on the generosity of the people we already owe the most.

Once we do have it up and running, the other question we have rattling around is: what should the rewards be? We can't commit to like, bonus episodes until we're already bringing in some money. Do you want, like, stickers? Like what kind of Sicko memorabilia speaks to you? Some kind of personalized Sicko content? Mega sicko erica dreisbach got me this Sicko Mug for Christmas—would you want that?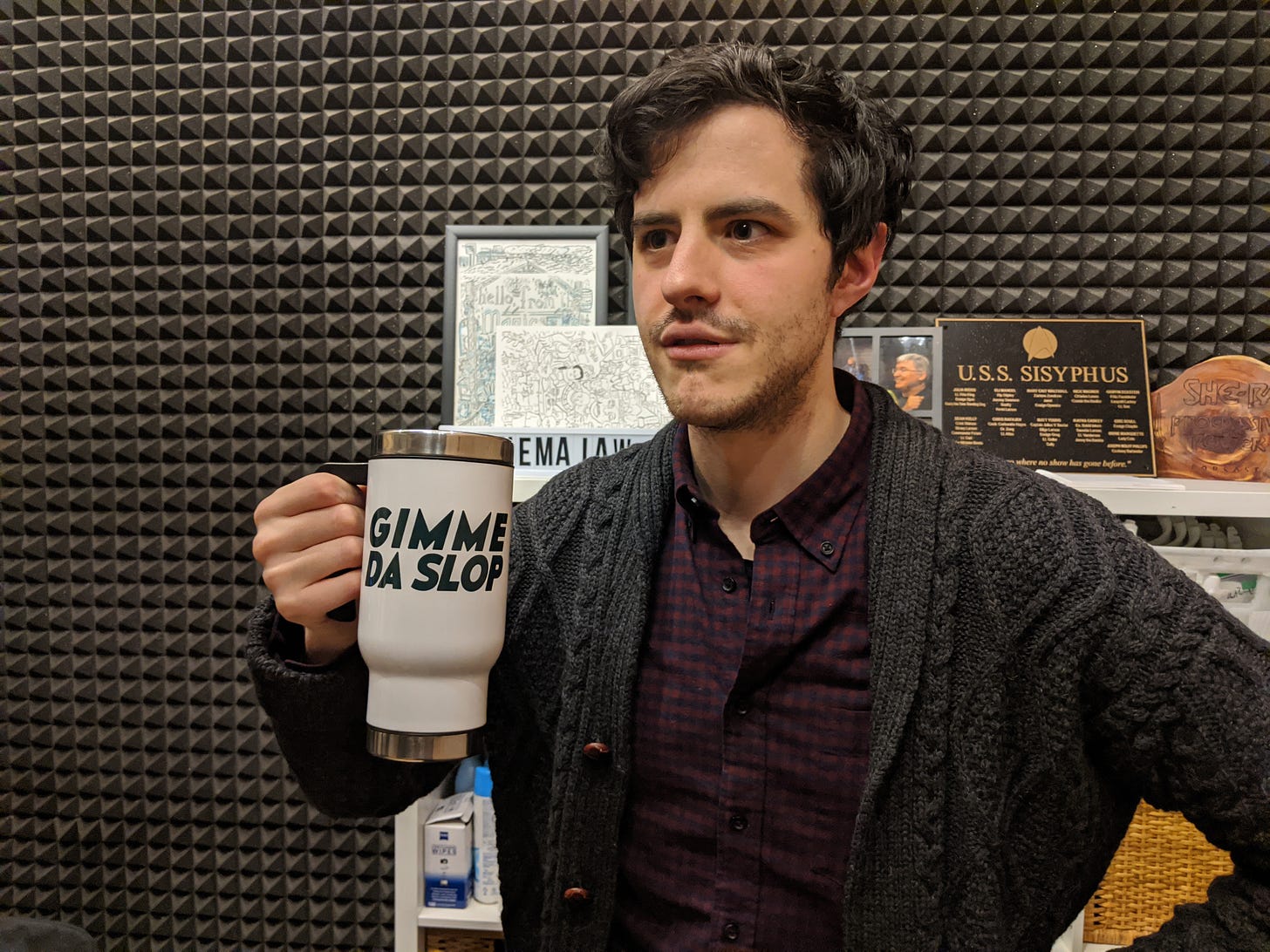 I am not asking rhetorically. Please comment on this newsletter, email us at animesickos@gmail.com, or DM us on Twitter. We want to know!

---
So much for "never been horny"…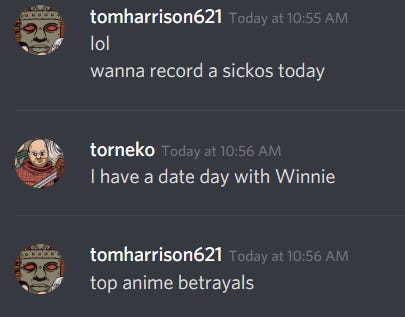 ---
Joe Reflects on the Soul-Sickness of Gaming Products
I recently had the misfortune of going into a Best Buy. Nothing wrong with Best Buy specifically—anything that makes me leave my Jade plants is an assault on my soul. It puts me at 1 HP. Because I am a dumb piggy who doesn't know better (fuck you I will never learn), I walked over to the aisle with gaming keyboards and mice.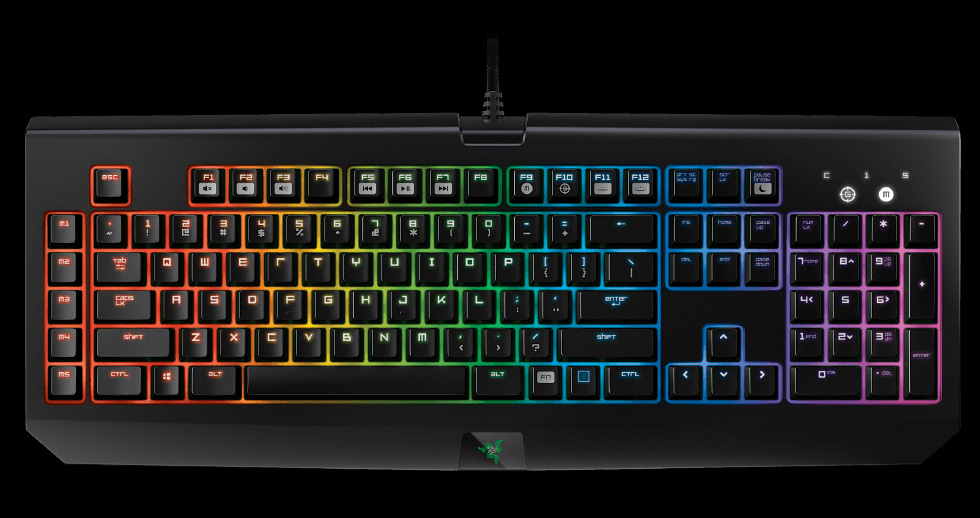 The gamer aesthetic must be destroyed. We must find the people responsible and powder their bones and use them to grow turnips.
Gaming is a hobby of consumption. It's not unique in that regard. Many hobbies are based around consumption. What is unique, however, is that it's a hobby where high-end products look like absolute shit! In an early ep, I told Tom that I bought a gaming chair and he asked if it looked like 'a clown dipped in vinyl.' Finding a chair that wouldn't make me feel like a manchild was not easy. I gave up and bought an ergonomic office chair with a description that did not include the word gaming.
I own a Logitech gaming mouse and it comes with software where you can change the pulsing colors of the LED logo. When I first got it, I spent 10 minutes fiddling with the colors and then I realized what I was doing and I felt a high-gravity wave of shame. That night I painfully slept among the wires under my desk so as to imprint the mistake onto my flesh's memory.
There is only one company that makes gaming products that I respect: Noctua. Noctua is an Austrian company that makes fans and heatsinks for desktop PCs. I don't know anything about Austria except it's not where anime comes from. What I'm saying is I have a very high opinion of Austria.
Technically Noctua products are not specifically for gaming, but if you are shopping for CPU coolers and case fans you're for sure an aspiring goblin building a goblin machine. Saying that Noctua products aren't for gaming is like insisting your four-foot-tall bong made by 5th-generation Swiss craftsmen is for tobacco.
The reason I respect Noctua is that their cooling solutions are some of the best and their color scheme is a refutation of all gaming hardware trends and looks like shit for a completely different reason.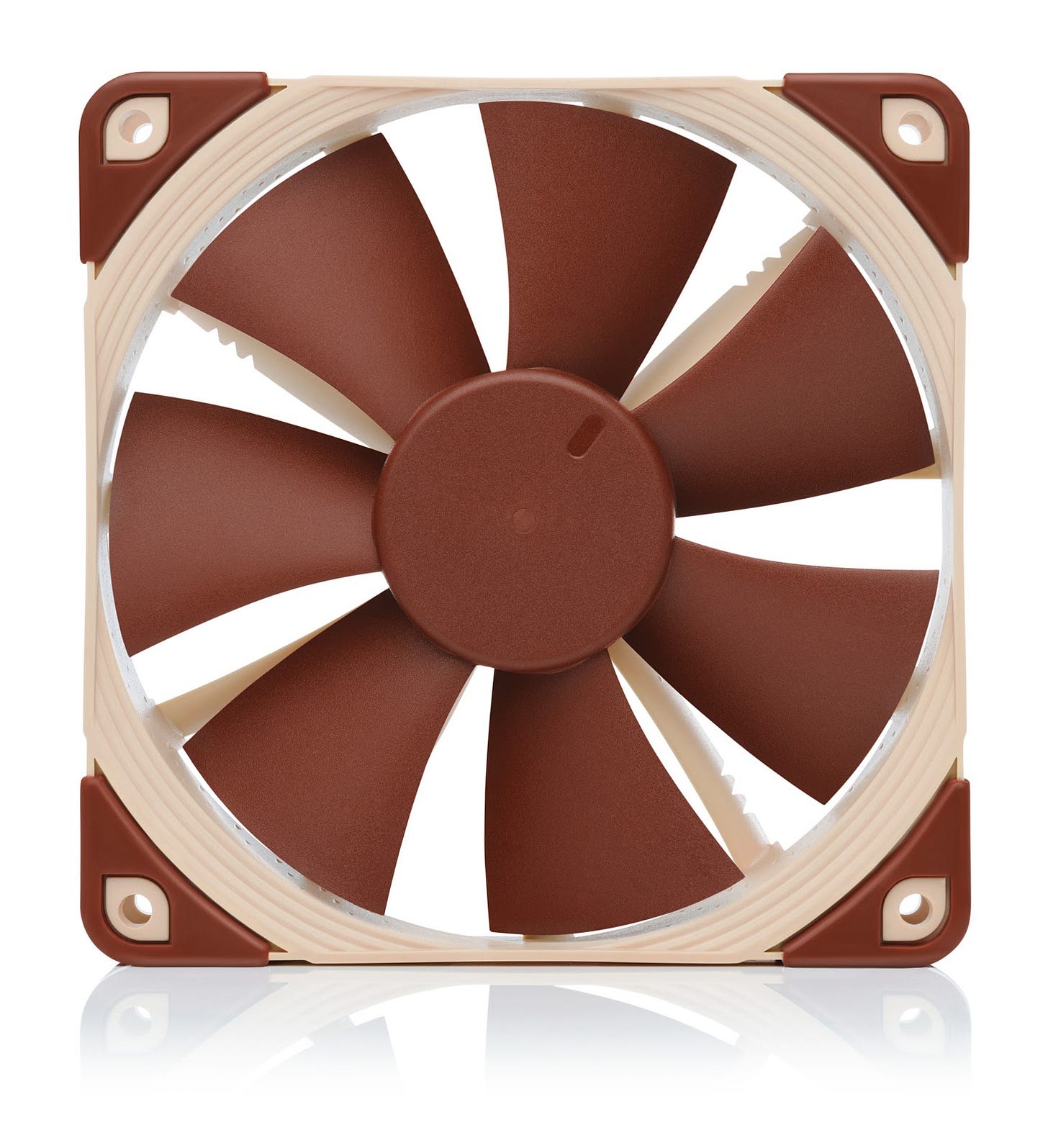 There's probably an official brand name for this color scheme. Who cares. I call it Bad Cum. The reviews for their products are always a hoot because many of them acknowledge that the product is very good but the colors do not match gaming trends.
"But Joe, wouldn't it make sense to sell all black products that are less divisive and thus more appealing to potential consumers?"
They do. They charge more for them. Gamer tax, baby. King shit.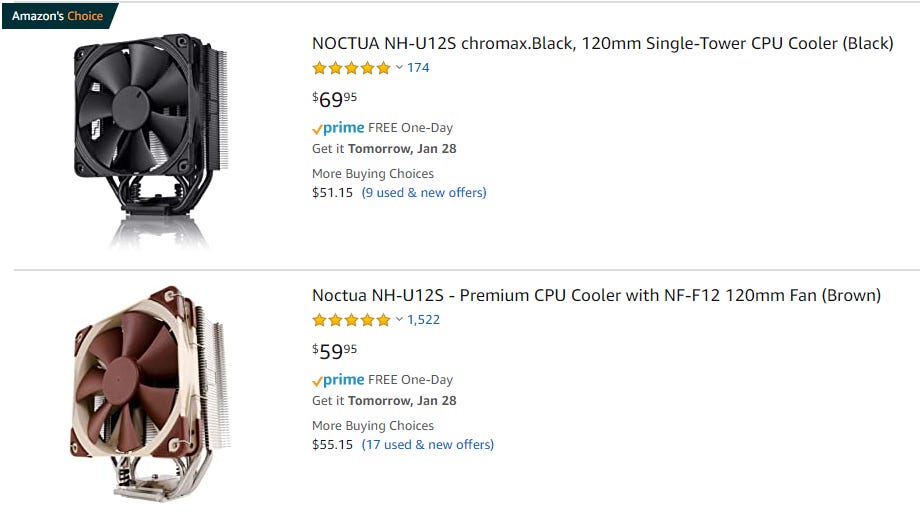 ---
Anime Fashion Corner
Welcome back to Fashion Corner! After easing into things last time with Jotaro Kujo, the fuckin' gloves come off as we return to the world of Jojo's Bizarre Adventure. This time, let's look at Bruno Bucciarati, the deuteragonist of Vento Aureo, the fifth part of JJBA.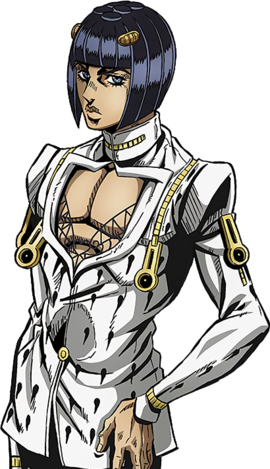 Bruno is an Italian thot who loves to fuck. He is a caring mama of five terrible Mafia teens who can't do math and shoot a gun in public when there's the wrong amount of cake (too much).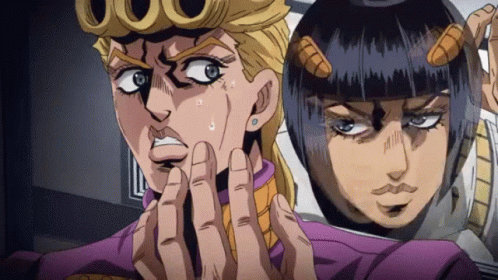 Bruno loves to lick Jojo because he understands you need to keep a sexual relationship frisky and exciting to make a long term relationship work.
Bruno is a capo in the Mafia (obvious). In the first episode of Vento Aureo, the narrator explains how the Mafia controls Italy and stresses the fact that they are intertwined with all parts of Italian society so it's impossible to find them and root them all out. A reason the narrator gives for this is that Mafia guys always wear plain clothes that do not call attention to themselves and therefore look like everyone else (not a joke).
This makes sense because as you can see Bruno has his titties out 24/7 which is an insanely normal Italiano move. You can see underneath he is wearing lingerie in the daytime. It is unclear if this is a lace negligee or an erotic boob tattoo. Both are extremely common things you see all the time in Italy. If the clerk at the chef hat store was wearing this, you'd go "no way to tell if this guy is in the Mafia or not."

Bruno's hair is fucking nonsense. His whole head is a big time error.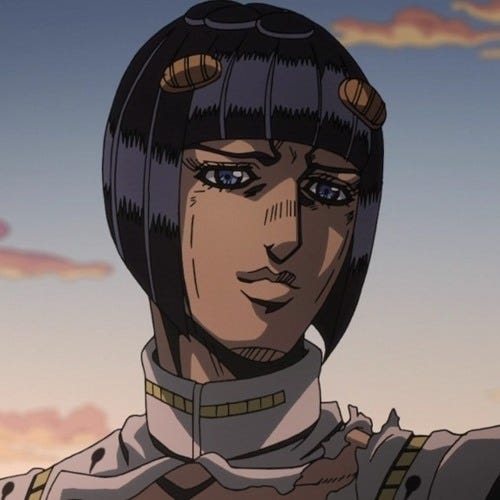 First of all he has a pageboy so sharp you could slice mozzarella on it, but also has a bunch of nubbins right on top. I have to imagine these are a series of tiny manbuns, which begs the question of what the fuck it'd look like if he wore them down. It is possible they are little squid ink pasta raviolis he is keeping on his head for snacks later like Paddington. He also has two little gold barrettes that look like turn signals. Bruno's head makes me so confused I had to sit down in the shower and breathe slow.

Bruno wears a white suit that he bought for sex purposes. It is dotted all over with silhouettes of zipper pulls and also has four huge brass zipper pulls hanging from his arms and chest. Above the aforementioned titty window the suit comes together in a tight choker collar that is also zipped shut. This zipper shit is because Bruno's stand, Sticky Fingers, has the power to make zippers show up on stuff. Here we see Bruno and his sexy zipper friend.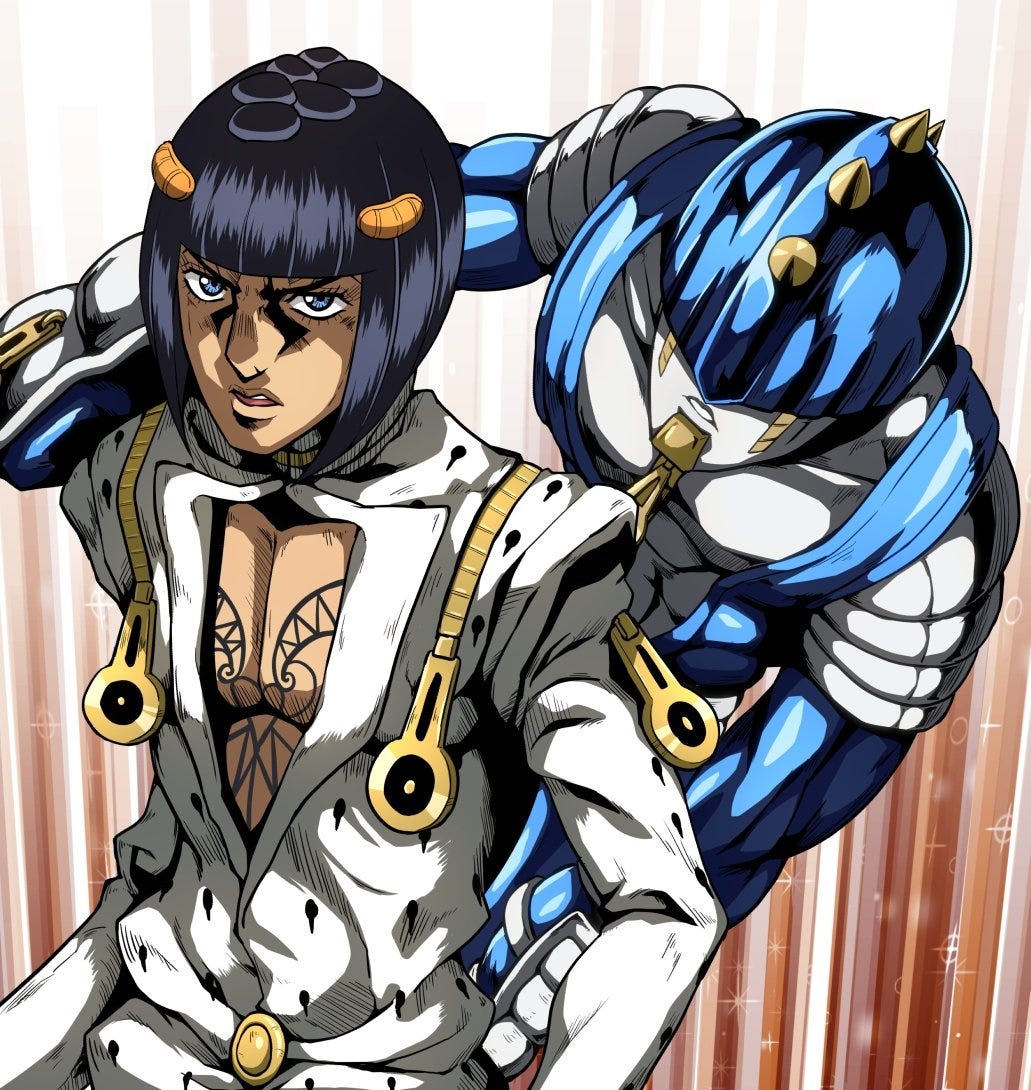 I especially love how Bruno's big motif is zippers but the thing holding his suit jacket closed is a single huge brass button the size of a hockey puck.

My wife informs me that his barrettes may be a pair of iridescent brooches made from beetle wings common in the Victorian era. These beetle brooches were not typically worn in the hair, but what is fuckin' typical about Bruno. The fact that this has as good a chance of being true as anything else is absolutely fucked.