Holiday Sickos
The podcast for festive geniuses
We hope everyone is enjoying the holidays by not working. If you do have to work, we encourage you to steal from your employer.
Anime Sickos will resume after the New Year. We have tons of dope guests in the works and we'd like to explicitly thank everyone who has tuned in and contracted the Sicko Virus. Our plan for 2020 is simple and twofold: infect more brains and kill God with a huge sword.
Behind Da Scenes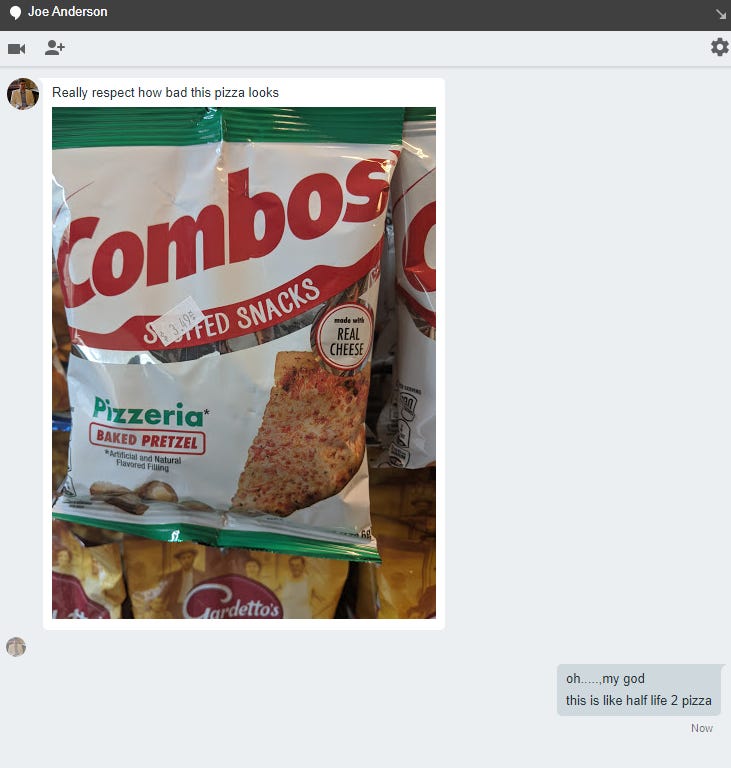 Anime Fashion Corner
This marks the inaugural edition of Anime Fashion Corner, a recurring segment where we break down anime outfits as much as we can before our brains turn to curd and ooze out our snouts.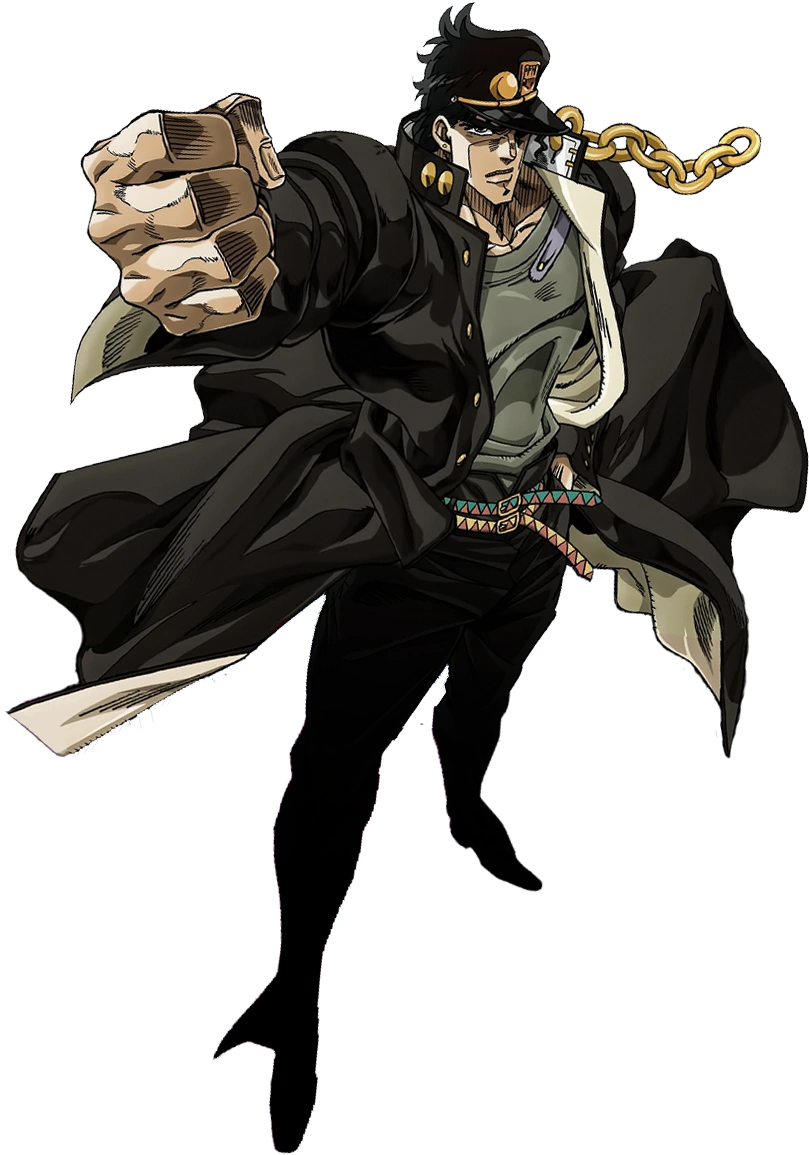 Let's start with Jotaro Kujo, protagonist of the third arc of the excellent Jojo's Bizarre Adventure.
First let's just address the elephant in the room, which is that Jotaro is the world's tallest child. In this picture he is 17 years old and is 20 feet high. There has never been a wider child than Jotaro.

Moving on to the outfit. The show hilariously maintains that Jotaro is wearing a school uniform. This is some true bullshit, both for the obvious reasons and because when he is with other schoolchildren they are wearing insanely different shit.

First we have his big ass black coat. On the collar we have some truly normal accoutrements. The right side has two huge brass orbs just stuck there. The left side has a gold chain hanging from it. Not like the normal gold chains you'd find on your average schoolchild--no, it is comprised solely of what appear to be the rings from Sonic. Each link is like an inch thick and five inches in diameter. It is deeply unclear what this chain is for. His collar, to its credit, never buckles under the chain's weight, which has to be what, like ten pounds? Again: we are told this is his school uniform.

Moving up to his hat. On the brim, we have the kind of normal accessories any Japanese teen would use to jazz up their hat. Namely, another huge brass orb and a fuckin' tablet with a bas-relief of a human hand. You'll note the back of the hat is not actually there, instead showing his hair. Normally we would assume this is artistic license used to simultaneously show his cool hat and badass hair. No! We later see him take the hat off and there just isn't a back part. If you've ever tried to wear a hat with no back part, you may have noticed that actually you need a back part.
Down to the pants: you'd be forgiven if you thought they were normal. Just kidding--fuck you for thinking that! Despite being clearly black skinny jeans, they take a dramatic bell bottom flare right at the cuff. Also, this mfer got two belts. The belts are *not* inserted through his belt loops and his pants seem to be unbuttoned and unzipped behind them! I gotta say the dual-color zigzag pattern is pretty dope, that part is not a joke.

His t-shirt is mercifully normal. We take a breath. We can relax. Except, wait, what the fuck, no, what's that weird strap buttoned to it? Some inscrutable purple strap seems to be coming from around his shoulder and is affixed to the shirt with another brass orb. I can only assume this is the foundation of some sort of elaborate series of trusses he uses to maintain the structural integrity of his collar. We the Sickos got into a fight because Joe insisted that the strap was actually a weird pocket that holds a single pen.

We have more Anime Fashion Corners in the works. To whet your appetite, we'll leave you with this: Jotaro actually has the normalest outfit in the history of Jojo's.
Tom'z Korner
Joe'z Note: I kept telling Tom to rewrite this so it has anything to do with the podcast's themes but he keeps making it longer. Tom is currently in Spain walking around eating olives, petting cats, and reading manga. Fuck him.
Sometimes I reflect on absolutely insane developments in culture and start looking like mad for someone else who's talking about it. Just looking for validation, to make sure someone else is seeing this too. Usually I find it, but the times when I can't, it colonizes my brain and I'm forced to spend like half my mana keeping it from being the only thing I talk about. Well guess what--now I have a newsletter and I'm about to lance my brain parasite in front of all of you.

Mark Kozelek is a singer-songwriter best known for his two bands, Red House Painters and Sun Kil Moon. He's always been an eccentric critical darling so there's no shortage of writing on his work. Here's the fucking thing though: everyone's looking at him and his work in the context of what's happening right now. No one zooms back enough to take the long view of his career as a whole and really do the work of juxtaposing his earlier music with his current stuff. This is, to me, a regrettable omission because I legitimately don't think there is an artist on earth who has so stunningly decreased the amount of effort he puts into his shit. It's fucking astounding!! WHY AREN'T PEOPLE TALKING ABOUT THIS!!!

Some context. Here is a song from his debut album as Red House Painters. He puts on a weird vocal affect and there's a distracting amount of reverb, but he is clearly trying for some ethereal dreamlike sound. The lyrics tell a disarmingly personal story in unusually direct language, to the effect of making a profound and vulnerable emotional statement. Put a pin in that last part.
Next album, Red House Painters' best, we get this stone cold classic--his voice sounds different here. Better. Smooth and beautiful. Fuckin good man.
A bit later, we get this song--not the best song overall (should be half as long--put a fuckin pin in that one too, sucker) but I think it's his best vocal performance. He's got the same sort of otherworldly smoothness to his voice but it's deeper, warmer, more human. Fuckin good man
Later on, he disbands Red House Painters and forms Sun Kil Moon. The instrumentation for Sun Kil Moon is a lot sparser than RHP, often just being Kozelek solo on acoustic guitar--put a third pin in that shit my bud. His voice is getting rougher, but still has that good hauntingly gorgeous vibe I come to this mfer for.
Years go by. Sun Kil Moon racks up reliably favorable critical notices but Kozelek in general fades from notice. People know what to expect and that's pretty much what he delivers.

Then in 2014 he releases the album Benji which reignites his career and makes him the hype shit again. Partly because his style is way different here--his voice is ragged and tired, he is less singing than sort of moan-speaking--a shockingly different vocal style that sounds like a different person. The lyrics are absolutely metaphor-free, and plainly tell painful and wrenching stories from his life that are resonate with emotional truth (PUT A PIN IN THAT PART). This song fuckin owns, about a distant cousin he barely knew who died in a freak accident, and how despite the tragedy of the situation, he is so distant from her, his home, and his family to properly mourn, so he turns to the only thing he has, his music, to try to tell her story. It's good!
NOW THE PINS FALL OUT, HOMIES. The lesson this mfer apparently took from Benji is, oh shit, if I just fuck around on guitar and mumble stuff that happened to me, everyone thinks I'm a genius, I'm just gonna do that now. It is honestly insane to me that all this music is by the same guy. I listened to Benji before any Red House Painters stuff and it made me fucking gasp when I heard what he used to sound like. I spent like a day googling "Mark Kozelek voice what happened" "Mark Kozelek voice curse" "Mark Kozelek voice pirate curse" "did Mark Kozelek get cursed" "Mark Kozelek voice throat injury?? or something??" "Mark Kozelek is he doing that on purpose" etc. His new music sounds like nothing so much as an avatar of contempt who hates having to record shit to pay his bills. None of his fuckin' diary entry lyrics actually add up to anything or serve a point other than the assumption he gets a treat when he does it. It sounds like the guy on the train who just talks to himself. HOW DID THIS HAPPEN. This, from his latest record, is unlistenable trash!!! If it sounds like he's making it up as he's going, it's because he is!! HE ADMITTED IT!! It's 12 minutes long!!!!!!!!!!!

He's also revealed himself to be a suckass clown who's cancelled who is constantly starting extremely mean-spirited feuds for no reason, the targets of which are always extremely baffled about why he's doing it. Also he's like insanely misogynistic. Fuckin' sucks folks.

Anyway that's my time, see ya suckers.
Sickos' Pickos
JOE'S PICKO: My goal for 2020 is to play more puzzle games because the dopamine hit for completing something tricky in a puzzle game is super potent - you get the normal boost of a Gaming Accomplishment but the game beeps and boops and says you're smart.
As we have alluded to countless times on the podcast, living and working in a world almost completely commoditized makes you feel like a dumb fucking baby. Everything is a transaction and the phantom fear of lost productivity poisons even how we view our own free time. I am choosing to falsely believe that more puzzle games can combat this cog ennui.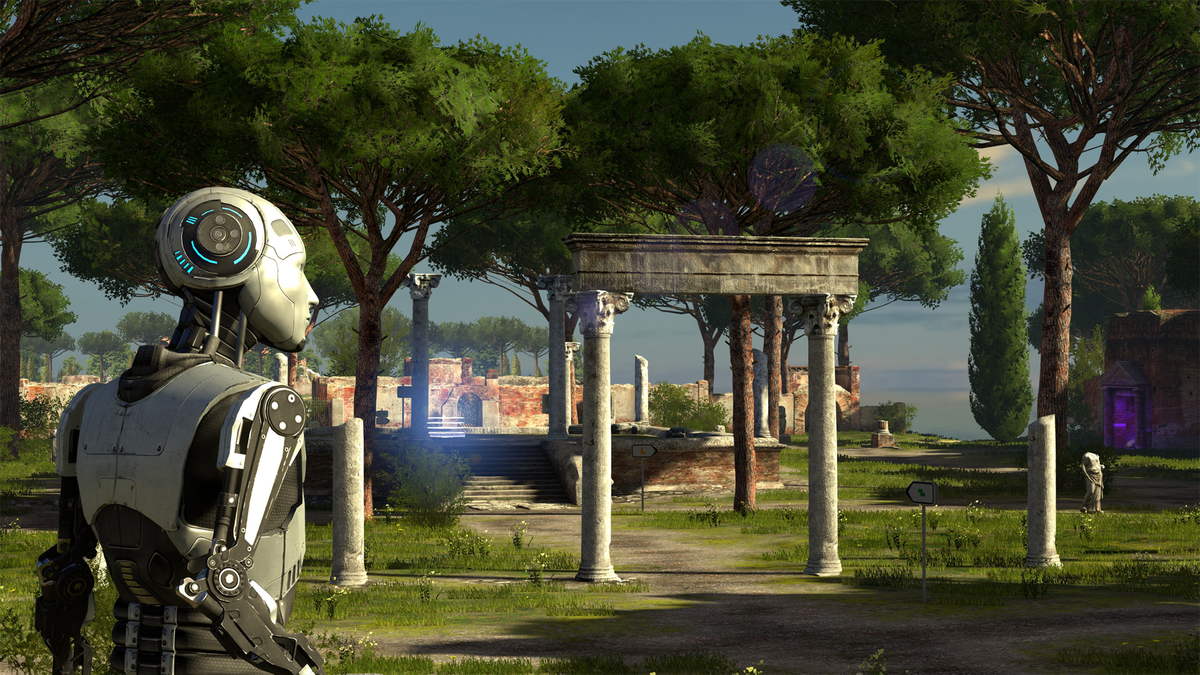 With that in mind, I am playing the Talos Principle. You play as an android that doesn't fuck who wanders around gardens putting boxes on switches and using old computers to read posts. When you do a good job, you get a shiny Tetris piece. This is surely what heaven is like.
The game has an engrossing narrative that makes the player question the nature of consciousness. You're also simultaneously discovering the story behind your creation and the extinction of mankind. But here's the thing: my brain, which is very smooth like a river stone, can either absorb a narrative or collect shiny doodads. This is an either/or situation. If I try to do both, the Lexapro will ooze out of my ears and I'll become despondent and unable to game properly.
The honest truth is that if there was a game that was basically a Cormac McCarthy novel but you could pick up cat turds for useless experience points, I would blow through all text to get to the turds faster. To be clear, I do not want to be like this! I blame growing up playing SNES JRPGs because those games have specific points where the game makes you stop playing so it can feed you lore. You beat a boss? Put the controller down, little piggy - it's story time.
In 2010 Roger Ebert wrote Video Games Can Never Be Art and I hated the resulting discourse but could not articulate why. There were lots of articles about how games are uniquely positioned to deliver interactive stories. I agreed but also I didn't care. It didn't help that people kept pointing to Bioshock as a definitive example of narrative greatness as evidence Ebert was wrong. Bioshock is fun but it is fundamentally a game about a guy with no personality finding tapes so you can listen to a libertarian's podcast.
Now as I play Talos Principle I finally found the words that escaped me 10 years ago: I love gaming because it's one of the few things where I get so engrossed I lose track of time. That said, every time I've lost an afternoon gaming, it wasn't because of a compelling story. It's because a game gave me some dumb shit to fiddle with!
Building subways in SimCity? Hell yeah. Grinding JP for for abilities in Final Fantasy Tactics? Gimme, gimme. And the Talos Principle? Buddy, I forgot to eat because I was moving metal crates so I could get a glowing Good Boy Medallion.