Happy 1st Birthday to Anime Sickos!
It's been a year since we debuted and changed podcasting forever
Hello Sicko fans.

As of today, August 28th 2020, Anime Sickos has been on da air for one year. 366 days ago (leap year) we debuted six episodes of the podcast for geniuses, the only podcast. When we started, we were already good, and we've only improved.

We have to thank all of our lovely sicko fans for tuning in to our silly show. It's honestly amazing to hear that this shit is connecting so hard with people. We love doing the show and we're so glad it's making you guys happy.

To celebrate our first anniversary, we have two cool announcements:

First, we are launching the Anime Sickos Patreon page! A few of you have mentioned how you wish you could support us with money. Now you can! We do not plan to have a ton of tiers with crazy rewards—instead just pay whatever you want. We will probably post episodes early for patrons and maybe we'll have some extra bits or bonus episodes. Don't worry about it too much. You can just ignore it if you want. But, it's here if you want to chip in.

Second, we have a website now! It's at animesickos.com and is cool. It explains the show, the four pillars, and has a cool "Where to Start" section with episodes selected for different listener interests, so you can send it to your buds who have yet to drink da slop and it will guide them to the tastiest spoonful.

We look forward to another year of being Anime Sickos. Your support and praise is like air to us. We need it to live.
---
Sickos Pickos
TOM'S PICKO: All Gas No Brakes
Sicko guest Devon Price recommended the YouTube channel All Gas No Brakes to me because it has a lot of bad rapping. First of all: holy shit. The amount of rapping is staggering. Second: this channel is absolutely off da chain and I am enthralled by it.
Some guy in a shitty suit who looks like a nerd (I'm sure he's fine) goes to places where odd people are and just lets them talk. That's the whole show, and holy shit! All Gas No Brakes is an apt name because these videos make you feel like you just shifted into a higher gear on the road to total ego death!
I can't emphasize enough how much the host barely does anything. This is not a Borat situation where the host is provoking people or placing them in a wacky scenario where they don't know what to do. He's just like "hey what are you doing here?" and following up with shit like "what did you mean by that" or "why are you going to do that" and letting them just talk, uninterrupted.
And turns out a lot of these people, if allowed to talk into a microphone without interruption, will rap.
I'm sure there's some point to be made that humanity has a weird and inscrutable underbelly that we in our bubbles either cannot or refuse to comprehend. That the people we dismiss as kooks and wackos are more numerous than we'd care to imagine, and that despite how much we'd like to write them off, they are people just like us. I guess. I just like when they rap.
All that said, even though most All Gas No Brakes videos document people who are either delusional, silly, or high, the videos where the dude applies his interviewing style to the Portland and Minneapolis protests are, no joke, some of the best journalism you'll see on those events. He actually centers the words of the people doing the work. Unlike literally any mainstream news outlet, he doesn't take it as a given that rioting is inherently bad. You actually get to see the reality of what's happening on the ground and hear the voices of the people who need to be heard.
Then again, no one raps in those so whatever.
---
Anime Fashion Corner
Normally in this segment I show some Jojo's Bizarre Adventure character who wears a mesh shirt with like ten pounds of solid gold hanging onto it with bobby pins as I go like "WHOOOA! THAT'S WEIRD!!!" Not this time. This time, we're diving into an iconic fit that I want in real life.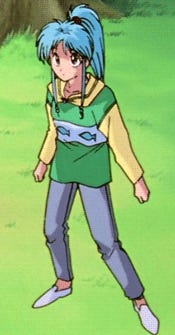 This is Botan from Yu Yu Hakusho. Originally Yu Yu Hakusho was about a kid who died and met the Grim Reaper, who is Botan. Botan rides around on a flying oar I assume because of folklore. Because of some dumb bullshit the kid came back to life but had to become a ghost detective and solve ghost crimes. Botan was his boss who would like, tell him how to dust for ghost fingerprints and explain who the bad ghosts were this week.
This lasts for two seconds because it sucks shit. The ghost crimes are boring and the series immediately becomes about the main guy fighting weird monsters with crazy powers. To be clear: thank fucking christ.
This leaves us in a weird position regarding Botan. The main guy isn't really fighting ghosts anymore, so there's no real reason for the grim reaper to be around and she doesn't know how to fight so it's not like she can pitch in during important battles. But the author of Yu Yu Hakusho (Hunter x Hunter's Yoshihiro Togashi) is no dummy and he figures out how to deftly reintegrate Botan into the story in a key role.
Just kidding! She just kinda stands around. Anyway, here's where the fashion comes in. Prior to this, Botan normally wore a kimono. It was fine. It looked like a kimono.
Then, midway through the Dark Tournament arc (an incredible arc, because—get this—it has a tournament in it) Botan comes through with this absolute banger look. Folks, I can't say this strongly enough: Botan's fish hoodie is one of the best pieces of clothing I've ever seen.
What's there to say? The bold color scheme pops with her blue hair, and then also there's two cartoon fish chilling in the middle. More clothes should just have animals on it. And I don't mean like "epic win" shit like the Three Wolf Moon shirt that tiresome people wear, I mean like a straight up normal animal with no statement. We see a bit of this with "put a bird on it" aesthetic but it takes a visionary like Botan to go straight for fish. This hoodie isn't selling a brand, it's not making an argument, it's merely like "hey....fish." And I'm here for it.
I want to purchase this hoodie so bad. I'm starting to feel like I'm going crazy. Like maybe I'm delirious and this hoodie isn't that good? But then I'm like no. Trust in Botan. This is an immortal spirit of death who can fly and whose friends are trapped in a deadly tournament full of super powered demons and she knew the hottest fit on the block would be this fish hoodie and I am not about to doubt her on this.
---
Joe is Still at 1HP
Last week I tweeted this:
Important update: still at 1 hp but now I will take poison damage if I take a step. My status: PSN.
So here's the deal with my building, which, in retrospect, mirrors exactly what we talked about on the Beirut Cog Explosion episode. The previous management association made a big deal bragging about how much money was in reserves. The reason they had so much money is simple: they never did critical infrastructure maintenance! Making a decision is scary and kind of divisive so they just never did it. This was ultimately the right call because they didn't renew their contract because it would be a lot of work and they're trying to focus on themselves right now, y'know? Now it's some other company's problem.
This building has 30 floors and 600 units and all the pipes that take water between floors are simply Fucked. They have been Fucked for a while but they hit a point of no return and now they need to be replaced fast. These are not pipes that are under sinks or behind tubs and toilets. This shit is in the walls. Every room has huge holes in the walls except for our tiny office where I am currently writing and pissing into Gatorade bottles because my water is shut off for the next 2 days and also they took my toilet. It's just gone! I gave them money to buy me a compatible replacement but ????.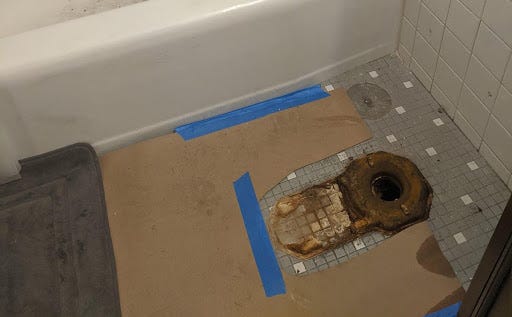 You may think this seems poorly planned. You are actually wrong. Considering the scope of the project and the timeline, this is actually planned very well! The problem is all of the work is contingent on completion of related work in nearby units which fucks everything up.
Hypothetically, if there was a woman in the building who refuses to cooperate and calls the cops anytime she sees something she doesn't like and believes all renters are scum criminals unlike her, a virtuous owner, you might start to see why this is a nightmare. Of course, she is not a hypothetical, she is real. She loves to wait in the laundry room so she can accuse people of stealing from her. She's clearly not well but there are countless people with mental illness who don't make immiserating others their Big Hobby. Needless to say her objections are taken seriously because she is the most important type of citizen in this awful fucking country: a home owner.
The American homeowner, much like the much-lauded Small Business owner, is one of the most vile, selfish creatures on the fucking planet. Their interests are always in conflict with any attempts to make things less shitty. Projects that do not materially affect them in any way can be stopped dead by baseless claims that people conspire to ruin the value of their property. When bike sharing came to Chicago, there was some asshole in a nearby building who fought tooth and nail to stop a bike corral outside his building because it would "encourage crime." The past month has really solidified my fear that mythical swing voters think anyone unfamiliar walking down the street is a financial risk that must be preemptively purged by state violence. I do not like it!
It is probably obvious but it's worth stating: refusing to do this plumbing work would very much fuck up her property value.
Honestly, this is why Cog Talk as a segment and a worldview are important to me. Everything we are encouraged to accept about work and laboring to pay for too-expensive housing sucks ass. Tom made the point that owning your home seems like a much bigger hassle than renting because he doesn't know what equity is because he has a bunch of mooshed up action figures instead of a brain. But I got to thinking about it and that idiot is right. Home equity is a big pile of phantom money you can't ever touch unless it's time to sell at which point that money has to be spent on new housing anyway. I am told that amassing home equity represents a kind of freedom but constantly weighing life decisions against a financial asset you also live in doesn't feel like freedom to me. It feels like work! It's just living in a spreadsheet - it sucks ass.
Anyway, thanks for listening to this stupid podcast. Here's to one more exactly (podcasters will be purged in 2022).