Da Anime Sickos Newsletter
The first edition of a text-based podcast supplement
Hey fellow Sickos!

Welcome to our first newsletter. This is just gonna be a compendium of brain dumps, quick thoughts, jokes that didn't fit anywhere else, mini-reviews, and other goofs we want to do. We were so happy to see that this is something y'all actually want. The response to this podcast in general has really blown us away and been a huge source of mental good-feeling.

That said, right when we were riding the "oh boy, they want more from us! They *like* us!" high, I went and saw this: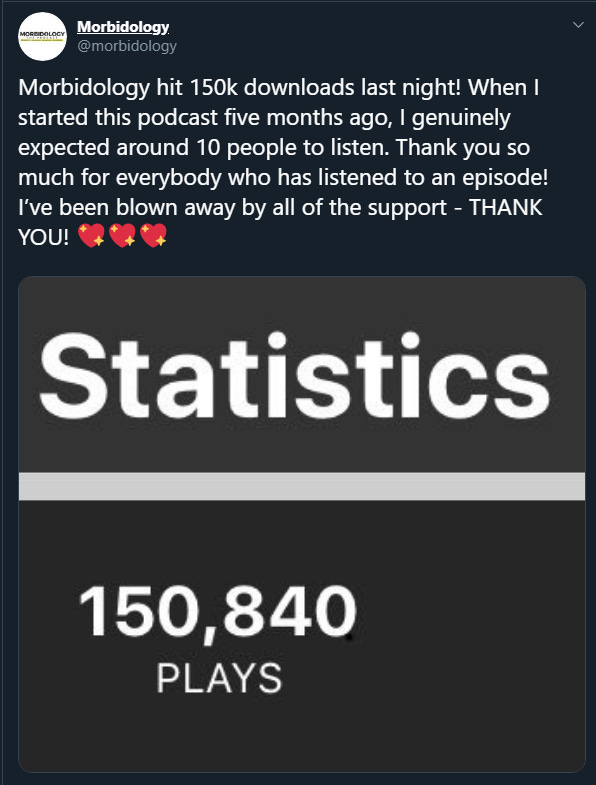 We are dumber than shit for not doing true crime!!!! At our current rate, matching these numbies would take TWENTY FIVE YEARS! We are still committed to transmitting the Sicko Mind Virus but if you are interested in paying us to read Wikipedias about gruesome murders, please DM us. Non-horny inquiries only!
---
Behind Da Scenes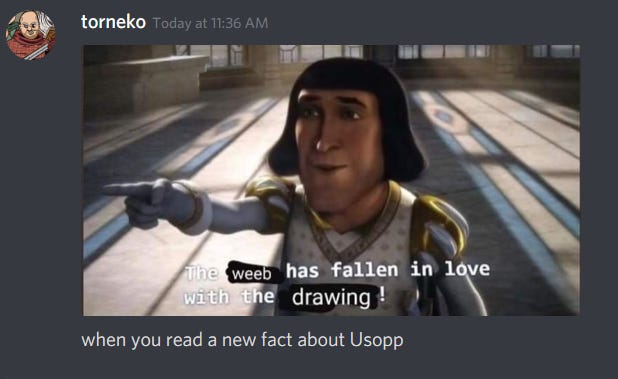 ---
Sickos' Pickos
TOM'S PICKO: My wife and I have made it an early winter tradition to rewatch the BBC miniseries adaptation of Susanna Clarke's 2004 novel Jonathan Strange and Mr. Norrell and folks it fuckin' owns.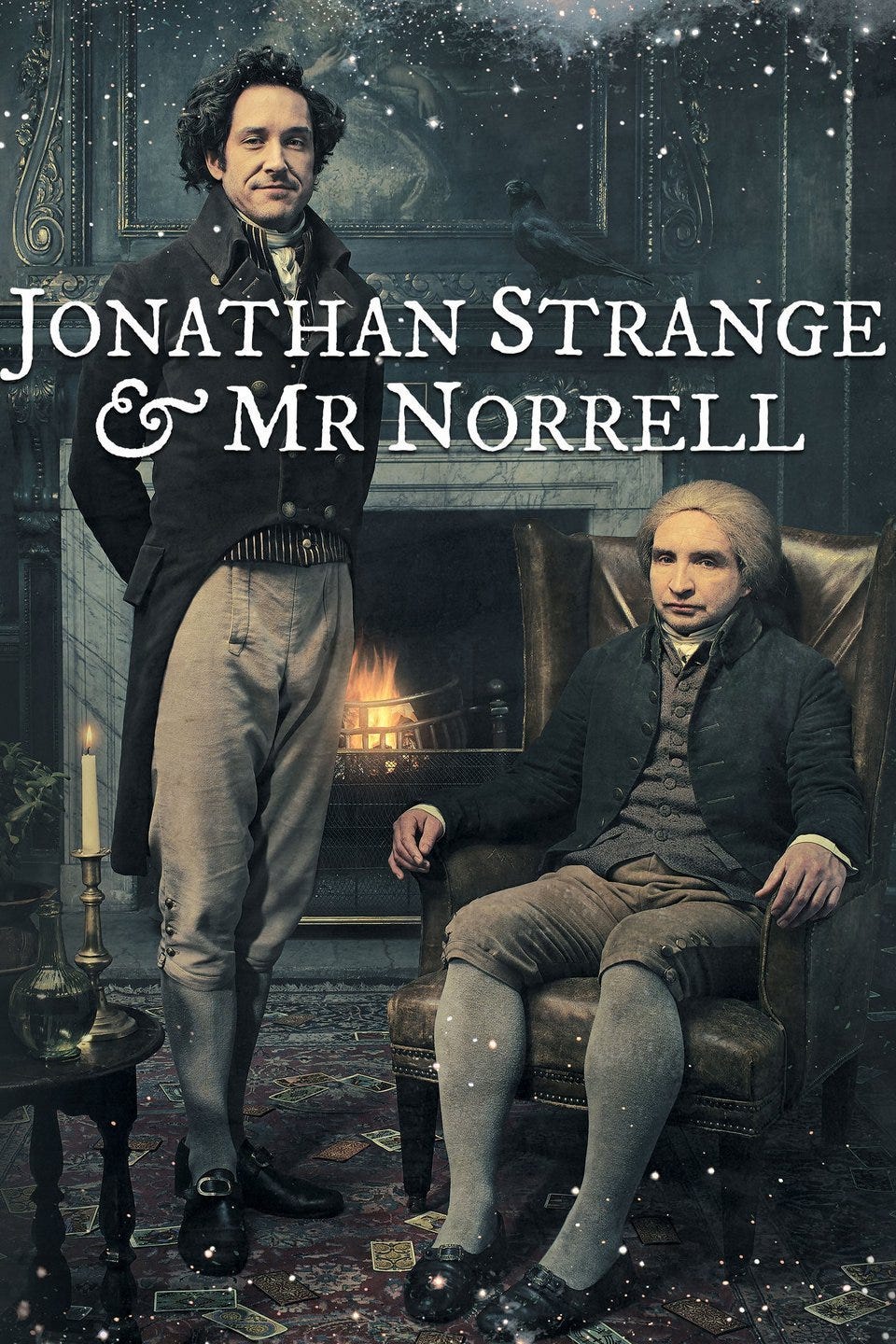 We follow a pair of gentlemen in 19th century England as they wend their way through high society and all the politics therein as they ply their trades, publish competing treatises of philosophy, and vie for respectability. They're also fucking wizards

Yeah, so in this alternate history, magic—like true wizard stuff—was standard practice in Britain for millenia til it suddenly vanished, leaving the world to course-correct to the kind of England you'd recognize from a standard Masterpiece Theater drama, except everyone sort of vaguely recognizes that way back people used to do spells but like who fuckin cares.

We then meet Mr. Norrell, an absolute toad of a man who sucks ass. Norrell is a huge nerd and we hate him. But his decades-long obsession with reading every surviving magical text has allowed him to painstakingly recreate actual magic for the first time in centuries, a breakthrough he intends to use to become the worst nerd on the planet.

Almost simultaneously, a ravishing ne'er do well gentleman named Jonathan Strange finds he can just do magic like whatever.

I won't go any further plot-wise than to say this shit owns so much. God it absolutely rules. There's so much shit I love—weird vague magic systems tied to The Land! Faerie as a harsh and weird mirror realm of insane rules and casual cruelty! Weirdos saying prophecies in episode one that you couldn't possibly understand but that turn out to be exactly true (that shit is like the simplest sleight-of-hand storytelling magic trick and I fall for it every time)! Meticulous world-building that actually serves to enrich the story being told rather than being window-dressing! Fuck! It's so good!!

There are some bits that could be explained better for non-book-readers—I enjoyed the whole thing a lot more after reading the wiki article on The Raven King, for example—but overall it is a masterful work. It's visually sumptuous and exquisitely cast—the two mains are pitch fucking perfect and the supporting cast is similarly excellent. I cannot recommend it highly enough, especially since it is apparently BBC's lowest rated miniseries ever despite rave reviews! Lol!! Fuck me!!!! Anyway it's on Netflix.

JOE'S PICKO: I picked up the Resident Evil 2 Remake during the Steam sale. The only previous RE game I played was 4 which was less about survival horror and more about gunning down mutants in rural Spain because they got infected with a horrible virus (Papism).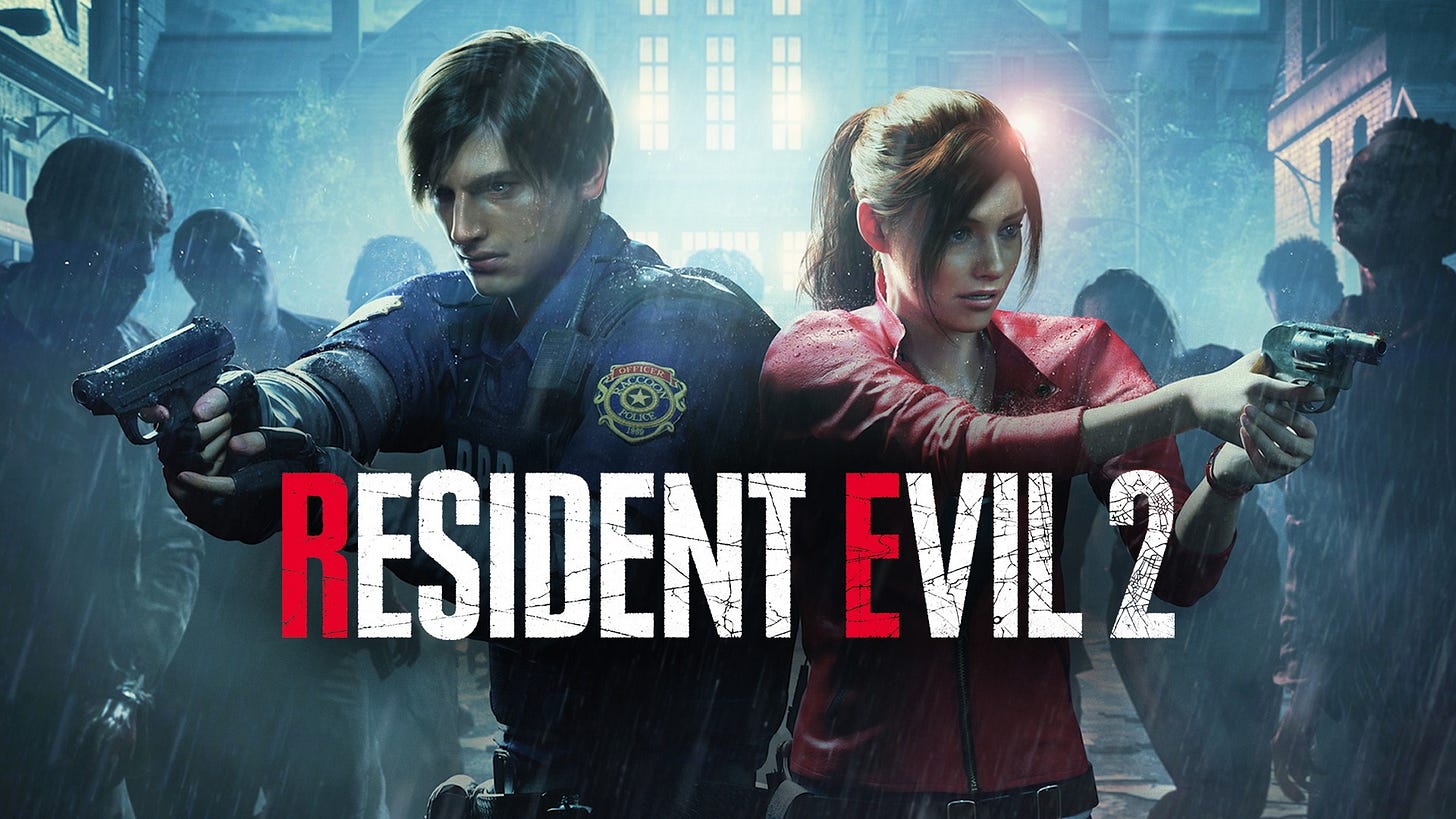 I rarely play horror games because I'm startled very easily and, like an idiot, I played RE2 with headphones. Once, while managing my inventory, my girlfriend lightly tapped me on the shoulder to ask me if I wanted some prosciutto and I briefly phased into the Fear Dimension, where each second is 100 years. Both she and cured meats are fucking cancelled.

The game asks players a compelling, unique question: what if everyone was a zombie trying to bite you? Wouldn't that be a huge bummer? The game starts with you seeking refuge in a police station that's full of statues that open doors when you give them medallions. The in-game reason for this is that the police station used to be an art museum. Video games are stupid and I love them. I chose to play as Leon because he has the same haircut as this lady I used to work with at Kohl's who always gave me cigarettes. Leon is supposedly a rookie cop but at no point does he puke upon seeing a corpse.
The actual gameplay loop involves you running around a map, solving puzzles and opening doors while trying not to get ripped apart by a bunch of monsters that were kicked out of hell for being too gross. You have a limited carrying capacity, so a lot of the fun is prepping and planning your route so you can get to your next objective. Ammo scarcity means you can't blow away every freak you come across; you'll regularly rely on Three Stooges bullshit to slip past enemies.

The puzzles are honestly good. Some of them feel like busy boards for toddlers which makes the fact that my brain was constantly overheating sort of embarrassing. The game also taps into a power fantasy of mine where I'm able to repair a machine in a clock tower while under extreme duress.
The fact I finished the game despite being pretty stressed out about the whole endeavor really speaks to the quality of the game. The story is compelling. You won't be surprised to find that a huge unethical corporation is behind the outbreak but learning the specifics is a good time.

More generally, I am really enjoying games that offer 8-10 hours of a dope experience and then get out of your way. Hundreds of hours of content with no definite ending suck to me now. You are describing an office.
---
What are the Sickos Reading?
Literally just this image over and over.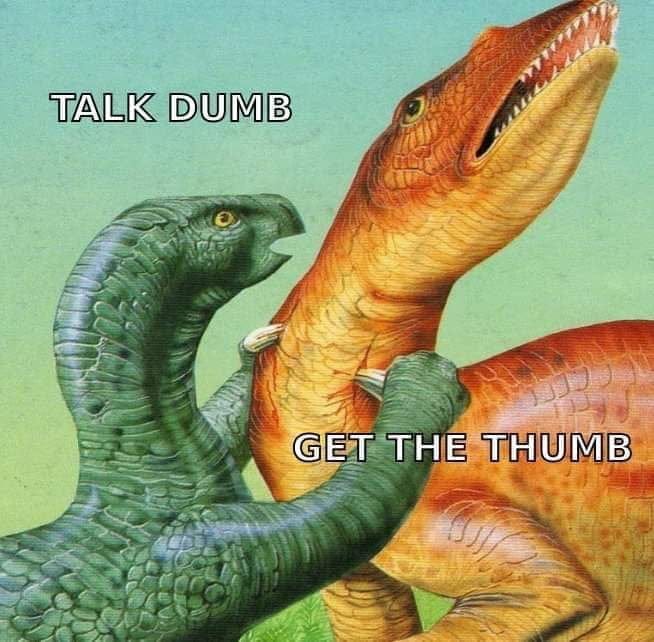 ---
Thank you for allowing the Sicko disease to infect you! Please send this shit to yer buds or something. Let us know what you like and what you wanna see more of!! See ya!