April Sickos' Day
A newsletter with the same amount of jokes as any other day.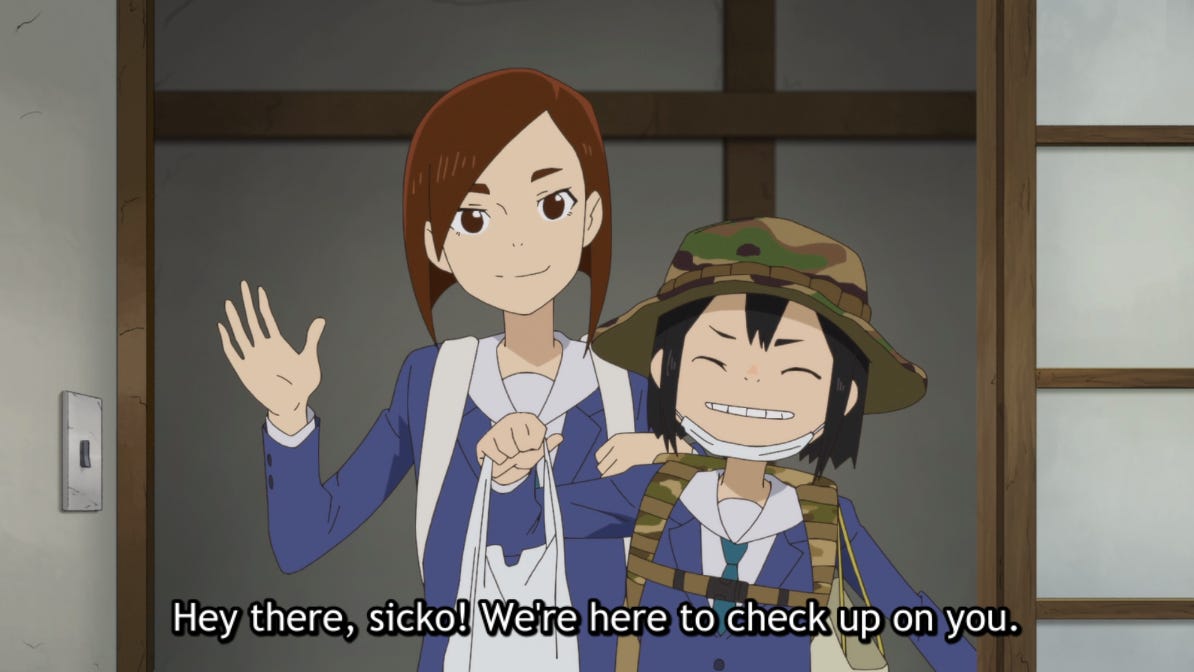 Hey folks, hope you are keeping psychically functional in the quarantine times!

Last week we did a watch party using Kast that went pretty well! Some folks experienced some lag but said it was still usable, so we're continuing with Kast for now provided it continues to work.

Anyway we're gonna watch Promare tonight at 8pm Central. Just follow this link: s.kast.live/g/13l2rf2hwc3

---
The Sickos Roast Their Playlists
This week, your favorite Sickos published official Sicko Playlists that distill each Sicko's essence into its purest form. Here, we will Roast the other's terrible taste.

TOM ROASTS JOE'S PLAYLIST
Joe's playlist is like if you met someone who didn't have an opinion on punk music and you wanted to convince them it was OK.

TRACK ONE: GHOST WITH A BONER by DIARRHEA PLANET
Joe opens the experience with a song that exists so that your mom will take away your records for being too bawdy. The main guy sings "Ghost with a boner!!!! Ghost with a bone!!!" over and over which I simply have to conclude kicks ass. To me I am picturing a cartoon bone that the dog from Tom and Jerry who gives Tom internal bleeding has in his doghouse. This is of course in addition to the boner. The song's main crime is that it is not 15 seconds long.

TRACK TWO: SNRUB by DANKMUS
Joe will clap his hands like a circus seal if he remembers the Simpsons, so when he discovered a guy who makes EDM tracks built exclusively on classic Simpsons audio he was trapped in a perpetual seal cycle where his brain unrelentingly fires the neurons that go "do you remember that episode" which in turn activates the synapses that go "yah it rules." The human brain was never meant to suffer this kind of strain and it's the reason Joe is that way.

TRACK THREE: TWO CUPS OF TEA by STAR FUCKING HIPSTERS
A song about two cups of tea (a delightful treat I often share with my beloved wife in calm moments of repose) that features a harpsichord puts me in Downton Abbey mode, but then a guitar (yuck!) begins to play. Simply vulgar.

TRACK FOUR: 40oz. ON REPEAT by FIDLAR
This is a punk song where a sad boy wails about how lonely he is, therefore there is nothing to roast, this is what music was invented for. This the endpoint of art as a concept.

TRACK FIVE: ANDROGYNOUS by THE REPLACEMENTS
The Replacements are an iconic punk band rightly remembered as one of the best ever. They are also 50 IQ drunkards who don't know what the alphabet is. Thus when they decide to record a tender piano ballad about non-binary people they step on their dicks every other line with insanely tone-deaf phrasing that makes them cancelled (they use the word "something" to refer to a human person multiple times). Joe including the song on the playlist can only mean he endorses this unreservedly and is therefore also cancelled.

TRACK SIX: CITY NIGHTLIFE - ORIGINAL MIX by architecture in tokyo
Joe is like 30-some years old and apparently never heard of a remix before so when he discovered someone took Cheryl Lynn's "Got to Be Real" and blew out the instrumentation a little bit his tongue rolled out on the ground like a cartoon wolf.
TRACK SEVEN: DVP by PUP
This is the best song on either of our playlists and it fucking rules. It also is a punk song where a sad boy wails about how lonely he is. Instant KO. Critical hit
TRACK EIGHT: BAD KIDS by BLACK LIPS
As a good kid who always followed the rules and who hand painted a sign for my college apartment reading "Following Rules is Cool!" that I hung up in the front room such that it was the first thing you saw when you entered, I have a deep ideological disagreement with this song's repeated assertion that we are all "bad kids" and am frankly devastated that Joe would endorse this filth.
TRACK NINE: YOU by ATMOSPHERE
In the mid-2000s a genre known as "backpack rap" took hold of the teenage white psyche as rappers with unusual technical skill made a bunch of weird albums where they rapped about shit no one cares about. It was a crucial skill in this scene to learn to discern which backpack rappers were actually good and which were corny. It appears Joe skipped this step.

TRACK TEN: CAME OUT OF A LADY by RUBBLEBUCKET
No one on this song is complaining about how they're lonely. In fact the singer is talking about how happy she is to not be lonely. This is the opposite of what should be happening. It's crazy how much this song misses the whole point. This is like if you wanted to bake bread but instead of flour you used memories of rain. Just astonishing stuff.

TRACK ELEVEN: DISNEY P.T. by PARQUET COURTS
This is like the stock music track for "punk" that filmmakers on a budget play to establish a scene instead of licensing a real song. I have never heard this song before, but at the same time, I have heard this song one thousand times.

TRACK TWELVE: CASTING AGENTS AND COWGIRLS by BUSDRIVER
See track nine

TRACK THIRTEEN: PADDLING GHOST by DAN DEACON
This is the second song about a ghost on this playlist. It's unclear whether this ghost has a boner. I've listened to this song two times, once while picturing a flaccid ghost in my mind's eye and once picturing a ghost with a boner. I can report that it is much funnier if the ghost has a boner. Maybe he's "paddling" with his boner like a big oar. Sometimes art is as much about what you bring to it as what it gives to you.

TRACK FOURTEEN: MALLRATS (LA LA LA) by THE ORWELLS
This song is unfair because it makes the vocals extremely blown out and loud which is a cheat code for making me pant like a hog. Joe included this song because he knows I am ultra-weak to this and take 4x damage.

TRACK FIFTEEN: FOREIGN OBJECT by THE MOUNTAIN GOATS
The Mountain Goats are the big brain band for geniuses who know what a metaphor is. This kind of music sucks to me since I will finish listening to it and realize I was too distracted with Cookie Clicker to understand it. This song avoids this fate by being about stabbing a guy in the eye. I am sure that's a metaphor for something. I will never decipher it and that's a promise. Luckily the surface meaning owns so no digging is required to enjoy it.

TRACK SIXTEEN: DOWNTOWN by MACKLEMORE & RYAN LEWIS
First of all, I didn't know Macklemore recorded a second song and I would have loved to have not learned otherwise. Joe often talks about how much he loves songs about riding a bike. This makes no sense to me since I have never seen this mf on a bike and don't even think he owns one. In any case this must be the reason he likes this song, since in it Macklemore talks about buying a moped (a type of bike). At one point he says "how can it be on two wheels" as though that is not the core fucking concept of mopeds. There is an achingly earnest chorus where gospel singers harmonize about "going downtown" as though it is deeply meaningful, then Macklemore comes in with a verse about having a moped. Joe once claimed he does not understand how I enjoy terrible rap. What this song's inclusion suggests is that uh....yeah he does.

JOE ROASTS TOM'S PLAYLIST
Tom's playlist feels like a mix-tape you would make a girl if you wanted to convince her you are punctual.
TRACK ONE: LEAVE HIM NOW by CLOUD NOTHINGS
The Cloud Nothings are not a pop-punk band but vocalist Dylan Baldi definitely suffers from pop-punk voice. You sing like this when you aren't brave enough to yell shittily about the important things in life: drinking some beers in a garage and riding a bike.
TRACK TWO: NORMAL by SCREAMING FEMALES
Tom's favorite joke in the world is to insist something is normal. The word normal is a cheat code to his brain. His idea of a satire is to read a bunch of crazy shit and say 'folks, that's normal.' When Tom listens to this, he laughs like it's a Weird Al song.
TRACK THREE: LAND OF SUNSHINE by FAITH NO MORE
About 30 seconds in there's scary laughing but Spotify has no parental advisory warning. Simply not safe for Tommy. His mother would NOT approve. What I think happened here is that Tom wanted to feel the thrill of a spooky song and tried to play the Monster Mash, somehow fucked up, and chose this.
TRACK FOUR: HEY HEARTBREAKER by DREAM WIFE
It whips. Next.
TRACK FIVE: CARNIVAL OF SORTS (BOXCARS) by R.E.M.
To me, R.E.M. was always The Band My Brother-In-Law Likes. If I spend 3000 more hours listening to them I'll like them half as much as Tom does. There's a sketch in I Think You Should Leave where Tim Heidecker is this weird guy who is obsessed with esoteric jazz musicians and gets pissed when young people don't know which artists appeared on the Colgate Hour. In 20 years we will be living in a Mad Max situation and Tom is going to be the same guy but with R.E.M albums.
TRACK SIX: WANT YOU IN MY ROOM by CARLY RAE JEPSEN
Correct. An absolute banger.
TRACK SEVEN: A MORE PERFECT UNION by TITUS ANDRONICUS
Do you know how many shitty Chicago house parties I attended where some guy who looks exactly like me talks at me about this album? The second half of my college experience was spent hearing about how The Monitor made us reassess the 'album' as a creative unit. Whenever I hear this song I take massive psionic damage because I am transported back to a time before I understood what ladies like (dudes who talk about SimCity).
TRACK EIGHT: BREATHING by KATE BUSH
This shit feels like a Meat Loaf song that doesn't crank up the tempo halfway through.
TRACK NINE: HATE, RAIN ON ME by AJJ
The AJJ vocalist has a weird voice. It's like a ghost trapped in an urn. It's goddamn perfect.
TRACK TEN: LAST HOURS OF ETERNITY by ENVY
I love when vocalists yell but cannot stand goddamn growling. Making me sit through 5 minutes of dreamy instrumentation so a guy can ambush me and lower my attack stat sucks ass.
TRACK ELEVEN: TIMOROUS ME by TED LEO AND THE PHARMACISTS
I had a college radio show and Ted Leo stopped by the station to meet everyone. I was not there because I was too busy playing Fallout 3. Shortly after, I was promoted to the station's programming director and led a big overhaul of the station's programming and we proceeded to win a bunch of national awards. My secret? Not meeting Ted Leo.
TRACK TWELVE: I'M NOT INVISIBLE by ROCKET FROM THE CRYPT
I listened to this while playing Super Mario Sunshine in 2002.
TRACK THIRTEEN: SIX WAVE HOLD-DOWN by HOT SNAKES
I almost put this in my playlist. Solid.
TRACK FOURTEEN: DIG ME OUT by SLEATER-KINNEY
Tom got me into Sleater-Kinney like last year but he got so pissed at me because I didn't know about them. "How the fuck did you spend the 2000s listening to punk and not know about Sleater-Kinney," he screeched impishly. He wouldn't shut up about it for a whole day. I would watch Portlandia and think to myself, "Well, that woman is definitely not in a band."
TRACK FIFTEEN: THE RIVER by BRUCE SPRINGSTEEN
Tom is always on my ass about this but Bruce Springsteen does nothing for me and folks, this song is no exception! I'm not saying I hate Springsteen to be cool and contrarian. He doesn't elicit much from me one way or the other; he's Fine. Tom will try to out-lefty me and say some shit like "Joe doesn't like Springsteen because he doesn't care about the plight of working people." That's bullshit! I very much care! That's why I'm joining the IRA.
TRACK SIXTEEN: HOW COULD THAT BE TRUE by PAUL BARIBEAU
I need you to understand that Tom has for sure played this for his wife and she nodded politely and immediately went back to watching YouTube videos about farming in Victorian England.

---
What are the Sickos Watching in Quarantine?
TOM: I took erica's suggestion and downloaded Speed Grapher from the stealing website. If you remember from her guesto episode, Speed Grapher is an anime about a bunch of Epsteins in Japan who have an enslaved girl whose spit either kills you or makes you have superpowers. Perverts pay huge money to kiss this girl. Anyway, a war photographer infiltrates their Little St. James pervert club for an exposé and gets kissed by the girl (intended as an execution) but instead lives and gains the power to make anything he takes a picture of explode.




This show kinda goes. It gets nutty with it. The tone is so hilariously grim 'n' adult. The violence is lovingly wet and chunky and all the women have huge heaving yabbos—because this is an adult show, not some show for kids, man, this is heavy shit. The photographer's girlfriend? She's a cop, but she's no narc, she loves violence, but she's also a sex pervert who likes to get fucked. This is gritty and for badass people.
So far our protag has been coming to terms with having magic powers and helping the power-bestowing girl to escape the clutches of the Epsteins, which manifests (so far) as them running around while a series of absolute pervazoids with awful powers tries to kill the photographer and re-kidnap the girl. It leans insanely heavy on themes of income inequality and the hyper-rich being irredeemable monsters barely recognizable as human, who make the populace of so-called "developed" countries into toiling wage slaves with no hope in their miserable lives other than a meager wage that's not quite enough to survive on. It's jaw-droppingly unsubtle but I don't give a shit! It's all true, baby! This show was produced in 2005 and it's only gotten truer! Pretty tasty slop IMO!

One thing to note though is that "everything he takes a picture of blows up" is NOT an accurate description of his power. I wish it were--that seems so much cooler. I imagined like every single thing pictured in the photo would just be annihilated, like there'd just be a perfect square hole blown in whatever wall was in the background. Turns out it's more like, whatever the camera is focusing on blows up. Example: one time he takes a picture of a streetlight and just the bulb explodes. If it were up to me, any part of the lamppost in the frame would explode too as would whatever segments of buildings were in the background. Like I would have it so if he took a photo of the moon the whole thing would go away. Oh well. Still pretty cool.
JOE: I started making my way through First of the North Star. Here's everything I knew about the show before I started: there's a buff guy named Ken who wanders around a desolate hellscape doing special martial arts that makes guys explode. When Ken's kung fu master dies, his friend and kung fu peer, Shin, leaves Ken for dead and kidnaps his girlfriend. Incredibly rude.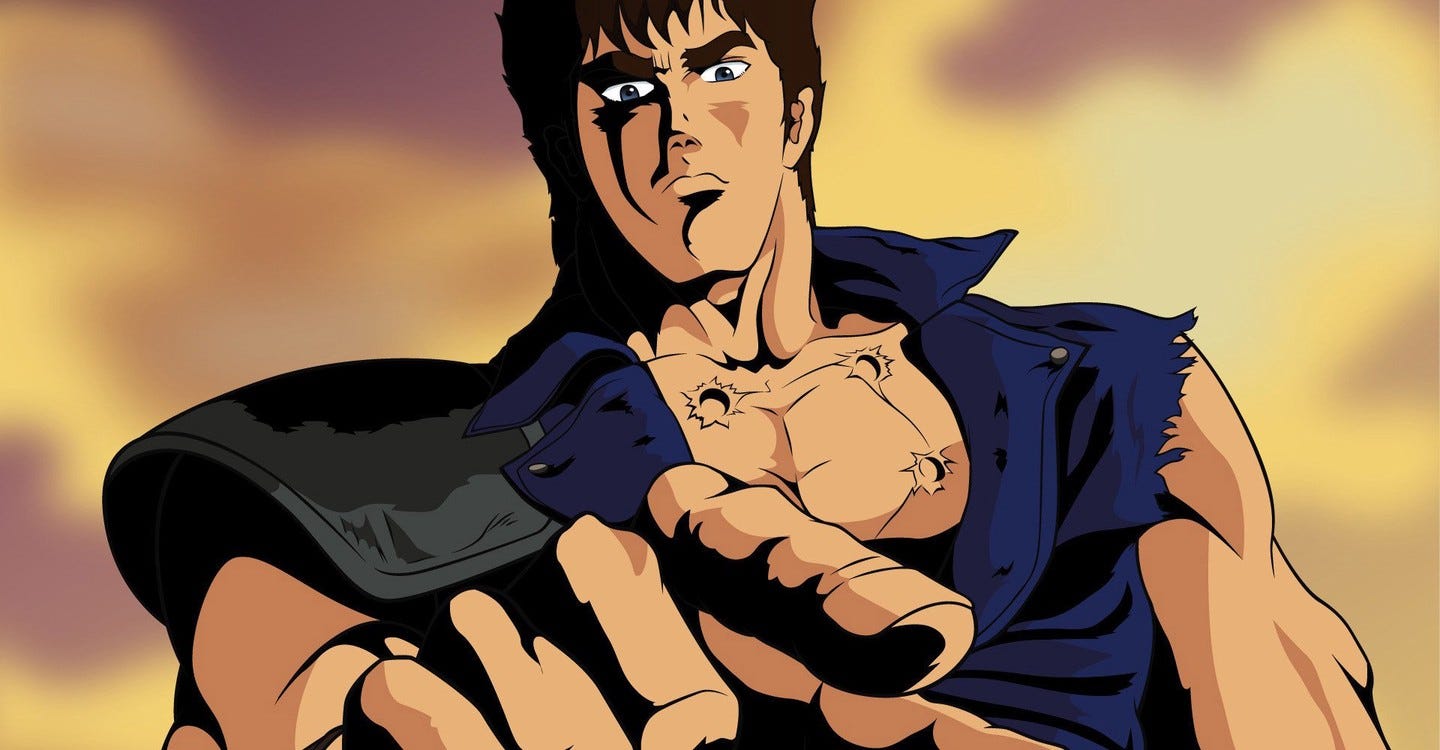 I'm 9 episodes in now and that seems like that's the show! The only new thing I learned about Ken is that he can use his complete mastery over pressure points to do shit that is top shelf goofy. So far he has:
Cured a little girl's trauma that was rendering her mute by resetting her brain like a router

Severed exactly 90% of a giant guy's muscle tendons so he can no longer use his brute strength to rob, forcing him to 'work an honest life'

Manipulated a guy's nerves so he strangles himself with his own whip
80s anime aesthetic fucking whips. The animation so far has been predictably dated - except for the parts where guys fucking die because Ken turned their arteries into timebombs, FoTN has the feel of a Japanese Hanna-Barbera cartoon. This is not a critique. I am thoroughly enjoying what is basically a slideshow of desolate bombed out cities and deserts interlaced with gory kung fu.
I have 141 episodes remaining. I cannot wait to see how stupid the power creep gets. The only time Kenshiro has gotten touched thus far is when he let a wrecking ball knock him down so he could get captured on purpose.