Anime Sickos Newsletter: 7/22/2020
I couldn't think of a clever title
Hey sickos, it's the Sickos.

If you'll remember back on the Posting 101 episode, we spoke of how sumo owns and is the best sport. Then, sumo immediately stopped because of the Death Air that has and continues to encircle the earth. Well, guess what: Sumo's back! I don't know if that was a good decision on Japan's part from a public health perspective, but it's a great decision from a me-watching-sumo perspective! If you're interested look for the channel "SumoNatto" on YouTube.

ALSO: Tonight we'll be streaming Color Out of Space on Kast for Sicko Movie Night at 8pm Central. Follow this link and join us tonight, my friends: https://s.kast.live/g/13l2rf2hwc3
---
Sicko Playlists: ROUND TWO - Part I
Previously, the Sickos made Sicko playlists that were roasted by the other. I thought that no one liked it but turns out some of you did (thank you). So we decided to do it again. However instead of roasting each other's playlists we have decided to instead simply praise our own. This feels insanely against the rules and like we're getting away with something really huge. It feels like we're robbing a bank. Here's the thing though: you can't stop us, we did it, it's already over.

NOTE: Joe did not do his playlist for this segment because he "had other stuff to do" and his condo is "being invaded by large groups of violent men." His half of Sicko Playlists Round Two will be in a future newsletter edition.
Tom's Sicko Playlist: Round Two
Track One: BODY BAG by NOMEANSNO
Nomeansno kicks ass because it answers the age old question of what if two Canadian brothers who were inexplicable virtuosos on the drums and bass formed a fucked-up punk band? The answer is they would slit throat. There is a third guy in the band who does uhhh... *checks notes* lead vocals and guitar, but for years hilariously refused to be credited because he was like "da brothers write all the music, I just do what they tell me." Anyway this song is pretty good.
Track Two: THE METAL EAST by LIGHTNING BOLT
In high school I attempted to be cool and cultured, which is a major blunder as I enjoy anime and thus can never be either. One way this manifested was years of misguided attempts to listen to noise music. If you're curious about noise music and wonder what the appeal is, so do I. Turns out you can listen to 20 hours of Merzbow and come away with nothing more than "what da...." I remember going on the message boards on last.fm and seeing people have very intense debates about which Merzbow records were good and which weren't. It was like watching people trying to rate numbers stations.
Anyway, the one good thing that came out of this is that I discovered Lightning Bolt. LB is two dudes named Brian. One plays the drums and kind of moans into a crappy mic held inside his mouth by a weird patchwork mask that probably smells normal. The other plays the bass except the highest string is replaced by a banjo string so he can switch from thudding, bone-crushing bass notes to squiggly high notes very easily. The reason Lightning Bolt is good, as opposed to the other noise music that left no impression, is that they actually write songs that slap and kick your ass. This one is pretty good.
Track Three: WE'RE COMIN OUT by THE REPLACEMENTS
No self-respecting white lefty asshole feels anything but an endless yearning love for the Replacements. They embody the ideal we all strive toward: becoming a beloved icon but also being depressed and not trying very hard.


Track Four: COSMIC CAVE by EX HEX
Ex Hex slaps, next
Track Five: FROM HERE TO UTOPIA (SONG FOR THE DESPERATE) by RAMSHACKLE GLORY
I don't know shit about drugs or being an anarcho-punk because I am a coward who will never take a risk, but what I do know is that I love sharply articulated writing about the cruel and violent shape of human society. The main guy in this band apparently has been in a ton of bands but for me this song is it, this is the alpha and the omega, a triumph of lyricism so good that I don't need to search anymore because I found the treasure already. So many lines cut me to the bone. When the main guy sings "if freedom means doing what I want, well, don't I gotta want something?" I go fucking sicko mode.
Track Six: THE LONELIEST GIRL by NAI BR.XX and CELEINA ANN
This shit is da song from anime!!!!! If you read previous editions of the newsletter you know I love Carole & Tuesday. This is the show's flagship song--I went through much hemming and hawing to decide which Carole & Tuesday song to put on here but I was kidding myself to think it'd be anything but this. The vocal performances here are so fuckin on point. When they harmonize I go sicko mode. Ahhhhhhhhhh now THIS is anime
Track Seven: CAN I WATCH? feat. APANI B by VIKTOR VAUGHN
My last sicko playlist didn't have any rap on it which felt weird, but there wasn't anywhere to put it, and also if I made Joe roast actual good rap it would force him to Become Racist.

Anyway I dunno if the transition to the rap half of this playlist works. The production on this is kinda similar to the previous song but it's a reach, I'll admit. In any case it's rap from here on out.
I should probably talk about the actual song itself. It's whatever but the fun part is when DOOM casually calls Apani B a hoe and then the rest is just her telling him to eat shit. A truly great gag and admirably audacious to dedicate an entire song to it. The part where he goes "nah, I was just..." and then gets cut off again is my favorite.
Track Eight: ACE feat. SMINO & SABA by NONAME
You'll remember Noname as a participant and would-be winner in the first 100% posting-based rap feud. I mentioned that she was good on the podcast and here you can see firsthand it's true. That said, as good as she is, I have to admit that Saba is miles ahead of anyone on this track, his verse is just bonkers strong. If I hadn't banned repeat artists I would have put Saba's PROM/KING on this list also.
Track Nine: POSITIVE CONTACT by DELTRON 3030
I'm pretty sure if you were a white teen in the 2000s you were required by law to listen to Deltron 3030. Like, you got a visit from a G-man late at night and were issued records from Aesop Rock, Atmosphere, Brother Ali, and this. Luckily Deltron 3030 is actually good so you don't feel like a corny dope for liking it.
And another thing: What happened to Dan the Automator? The beat for this song rules, his shit holds up so well! He used to be producing records all the time, you couldn't get away from that guy, he was awesome. Never hear about him now. Did he retire or does no one want his beats anymore?
Track Ten: DEFINITION by BLACK STAR
So much 90s-00s backpack rap is just guys complaining about how fake rap is so crappy but one day real rap will come back in style. Well, that didn't happen! Turns out art forms evolve naturally and no one will be convinced to buy your records when the only thing you do on your records is whine that people are buying the wrong records. Black Star has a ton of that in their songs but honestly? When they say it you believe it. Mos Def and Talib Kweli are, in fact, the best alliance in hip hop.
Track Eleven: ABOVE THE CLOUDS feat. INSPECTAH DECK by GANG STARR
Just a few newsletters ago I was talking about you don't hear a lot about Gang Starr these days and now this. Gang Starr rules because Guru isn't very good at rapping but you can't even get mad since he's trying so hard. A lot of rappers try to make it look effortless, but Guru is like Rock Lee in that he's only truly impressive when you realize he's put in ten times more effort than anyone else. Also this song samples Seinfeld.
Track Twelve: 4TH CHAMBER by GZA
One of the top 5 Wu-Tang tracks, easy. It even has a verse from Killah Priest, a guy squarely in the "RZA's weird second cousins who found a key to the studio and now he won't leave" tier of the Wu-Tang deep bench, and it still kicks ass this hard.
Track Thirteen: RASPBERRY FIELDS by CANNIBAL OX
Too many people these days like El-P and feel cool and hip for doing so thanks to his runaway success as half of Run The Jewels. I resent this a lot since I liked El-P when I was an unpleasant 14-year-old who was actively more unpleasant for enjoying tiresome indie rap no one cared about. I suffered for you by talking about this shit when no one wanted to hear it, and now you reap the benefits of hearing some of El-P's best work ever.


Track Fourteen: RAPID EYE MOVEMENT feat. BLACK THOUGHT by PHAROAHE MONCH
Pharoahe Monch is one of those guys who is low-key one of the best rappers and lyricists of all time but if you got asked "which of his songs are good" you'd be like ah, excellent question, almost none of them! Like 99% of his songs have beats that sound like they came with the keyboard. This song is no exception but the lyrics and flow are simply S-rank. Also: The Roots, Black Thought's group, never really did a lot for me but his verse here is a Perfect Platinum combo.
Track Fifteen: ROCKET FUEL feat. DE LA SOUL by DJ SHADOW
DJ Shadow is inconsistent as hell but this beat is so infectiously joyful, and De La Soul are the perfect group to accompany it. The shit they do here where they keep swapping the mic back and forth between lines is so fun to me. Most groups have a guy do a verse, then the next guy does a verse, and so on. De La just finishes each other's sentences the entire time and it rules. Beastie Boys do this too but De La Soul actually knows how to rap (I love the Beastie Boys but am I wrong?)
---
Sickos Pickos
JOE'S PICKO: Hajime no Ippo
People who have smart opinions about manga say shit like "it's a powerful storytelling medium that uses sequential images to create the illusion of movement." Those nerds are wrong — manga is just a way to put guys with power levels into my brain.
One of the problems with manga fights is when power creep sets in and artists run out of ways to show bigger energy blasts, powerful auras, and anime bullshit like that. This sucks because it means pictures of Goku produce less dopamine over time. One of the reasons I stopped reading The Seven Deadly Sins is because the fights became completely inscrutable. Showdowns with strong Bad Guys devolved into nonstop explosions and I became completely unable to track combat choreography.
All of this is to say I am maturing and reading manga with more intellectual themes: fighting guys that don't shoot lasers.
So far I've enjoyed Holyland (street punks brawling at night) and All-Rounder Meguru (sports manga about Japanese mixed martial arts) but lately I've been absolutely horking down the slop that is Hajime no Ippo, a boxing manga that has 1307 fucking chapters.
The comic is about Ippo, a very nice boy who is 3 feet tall. One day after school, he finds his way to the Kamogawa Boxing Gym where Takamura, a rising middleweight star, teaches him how to throw a punch. Ippo then proceeds to obliterate a sand bag because he's secretly jacked since he's spent every minute of his life outside of school hauling heavy fishing equipment for his family's business.
Here's the deal with this manga: the cadence of every arc is the same shit and I love it.
Ippo has a fight coming up and learns about his opponent

Everyone at the gym helps him prepare for his fight

Ippo gets into the ring and gets brain damage

Ippo finds an opportunity to use what he practiced, usually winning
Ippo gets hit in the head so much. Ippo is the Michael Jordan of getting punched in the head.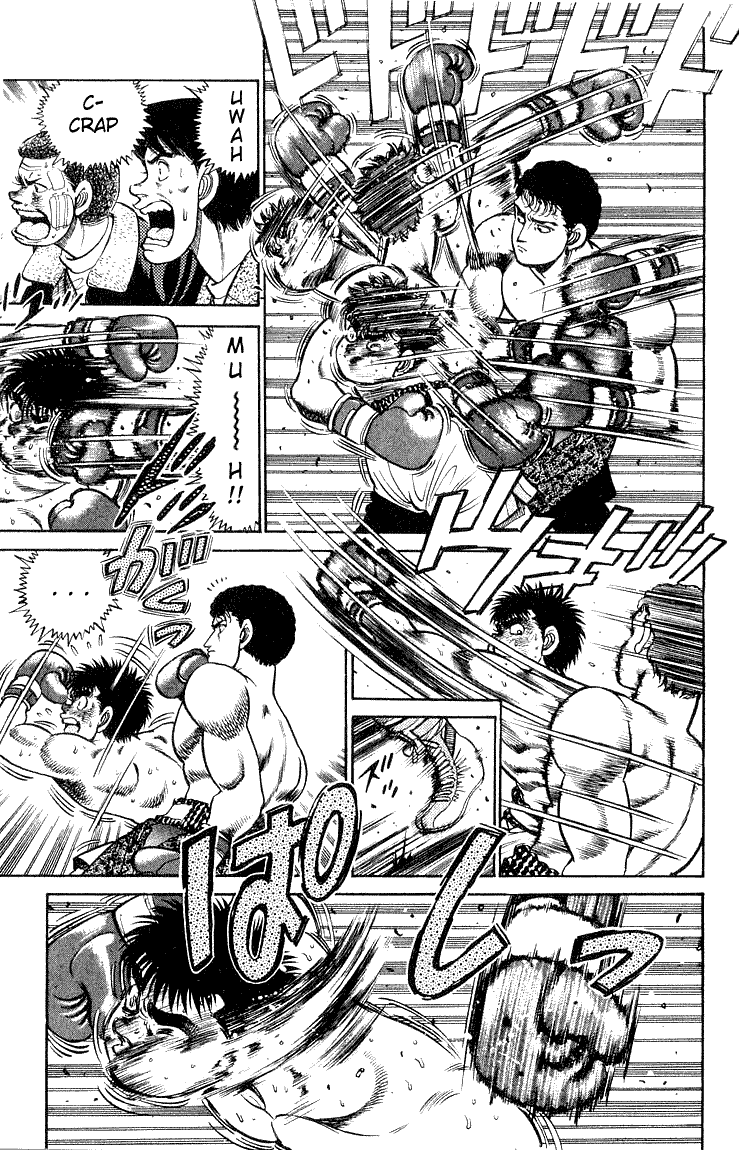 As a boxer, Ippo has an explosive punch with destructive power well beyond his featherweight class. Unfortunately, his reach sucks and initially his defense is non-existent. He's so bad at keeping his hands up that his coach makes him chew on his thumbs so he develops muscle memory about keeping his hands by his face. Every fight so far has been Ippo trying to figure out how to land his heavy punches against boxers with greater skill and technique and that dynamic kicks ass.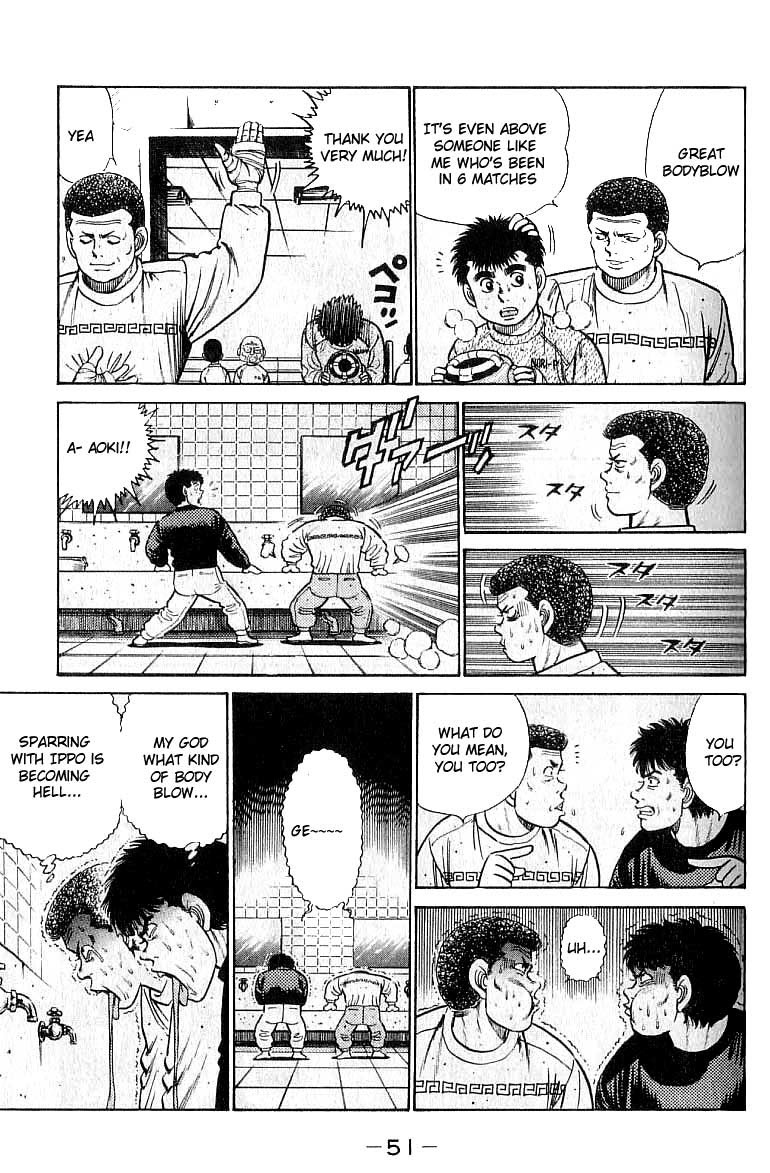 The other thing about Ippo is that he has a monster wang and is insanely embarrassed about it. Early on, Takamura tries to embarrass Ippo in front of the other boxers by ripping his towel away in the locker room but alas, Ippo has a huge dripping hog.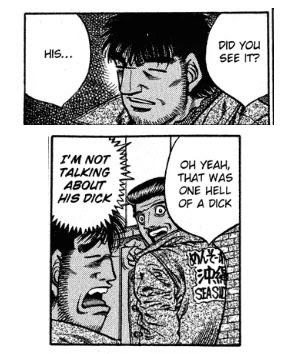 Very excited to read the remaining 25,000 pages of this. I sure hope Ippo surpasses his limits several times.