2020: Year of the Sicko
The newsletter for new year Sickos
Hello all sickos. It's us, the Sickos. Much thanks to everyone who listened to our show in 2019. We knew we had something good but we didn't expect for it to hit as hard as it seems to have! Non-famous people are always going to have a small footprint in the creative world but it's so great to know the people who've found the show really fuckin' get it. Much love and here's to a dicko mode-free 2020.
---
Send us Sicko Artifacts

One of the most rewarding parts of this podcast, aside from people telling us we are good and funny (please continue to do this; if you stop doing this we'll die), is when people send us things with Sicko Energy.
What is Sicko Energy? It is content suffused with Sicko Mindset, the admission and even gleeful revelation that the stuff we love is actually dumber than shit. It comes from a position of absolute weakness, where it's clear you're a baby bitch the world one-hit KO'ed so hard you legally have to put it on yr LinkedIn. It is retreating to the wisdom of dumb guy energy after being burned by trying to be smart. Actually, fuck it, this defines it pretty good: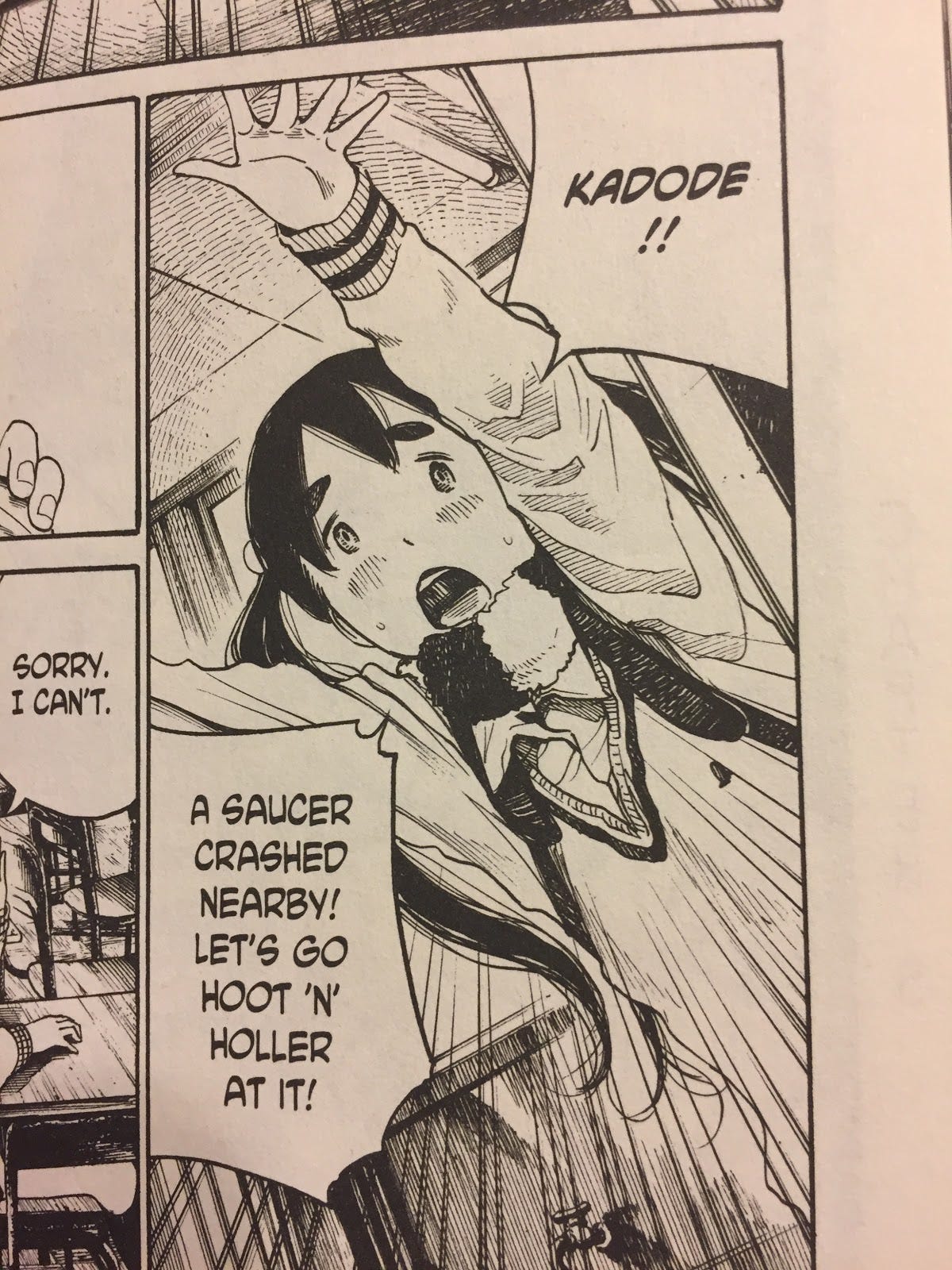 ---
Behind Da Scenes Update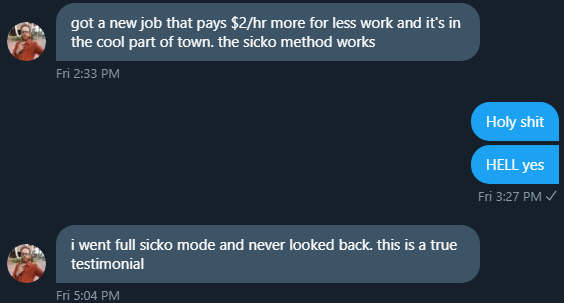 ---
Becoming Anime Jocks: Our Fitness Journey
An update on our mission to achieve physical fitness:
JOE: My medication made me lose weight which turns out was exclusively muscle mass. I've been huffing and puffing with dumbbells that are definitely pink with the false hope that I'll become jacked and good at karate.
TOM: I didn't go to the gym for so long I forgot my padlock combination and the guy had to clip it off with a huge scissors from a cartoon.
---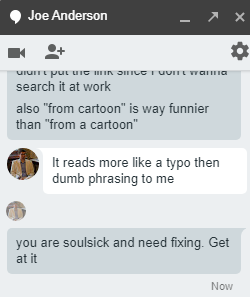 ---
Sickos Pickos
TOM'S PICKO: One thing I hate to allow my brain to do is be comfortable. Do not be tempted to read this as some intellectual ideology about stepping outside one's comfort zone in order to learn and broaden mental horizons. I refuse to step out of zones. I love zones!!! Please understand this is instead a big time pathology wherein I must dump my head into a big bag of scorpions every week and go "Fuck! Can you believe how shitty this bag is! Lol!!!"

The thing about this habit is eventually my brain builds up some rudimentary defenses against the scorpion poison. Sure, there are fucked up posts all the time, but by now I'm able to trace the patterns behind the madness more often than not. The novelty isn't gone, but like...I'm starting to expect the scorpions when I put my head in the bag. They're familiar. It's rare and exciting when I put my head in the bag and the scorpions have mutated into a strange new form that have powers now.
Preamble complete, I present this video which made me feel like I had accidentally phased into another dimension.




It is, to be clear, a video about Irish girls' disco dancing. Apparently in Ireland disco dancing is popular enough for there to be multiple disco-only studios employing full-time disco dance teachers all of whom have dozens of students. I want to also make it clear that whatever image you have in your head of "disco dancing" is fucking wrong! They do not do that at all!

These kids put on horrible costumes that suck ass and sprint around an old gym with a gait that reads more than anything as "furious" and then just sort of freak the hell out and flail around with movements that are imprecise and shitty. There is apparently an endemic problem of girls whipping their arms around so hard that they KO other girls who are also sprinting around at random. The documentary hilariously refuses to ever include the music the kids are dancing to, further distancing their movements from even the concept of rhythm. We are forced to imagine what music could possibly be appropriate for this kind of dancing and there's really no answer other than an edit of Sandstorm that gradually increases the BPM while someone screams over it. We follow a few girls who are described as being some of the best disco dancers in the country. When they dance it looks fucked!!!!

It would be one thing if this was a documentary about a bizarre and inscrutable subculture. But what puts this over the edge is that it is very much *not that*. The tone and presentation of this video insist with unwavering conviction that actually this shit is really normal.

We watch this expecting at any moment for the narrator to go "now I know what you're probably thinking: how come this fucking sucks" but it doesn't happen. They show the people who make the terrible shitty costumes and blithely mention they cost 1000 dollars and no one goes "hold up--why can't they wear shit that doesn't suck?" They show the dancers explaining how much time they spend training but no one asks "how come they're so bad then?" They mention that the style of dance has changed a lot since the disco heyday of the 70s but no one says "but how come it changed into THAT?"
Someone asks the judges at the big nationwide disco dance competition about their grading rubric and we hope against hope that someone with expertise is going to actually explain why any of this shit is considered good and they're just like "yeah we're looking for stylish costumes and makeup, and a lot of energy" and the video just accepts this! Like, yep, sounds fine to us!!!

This shit is entirely alien to me! I legit cannot find a foothold here. I would imagine that it's some sort of gross Toddlers & Tiaras child abuse shit (especially given the aesthetic) but the girls really seem to be into it as like actual dance? Like they actually work hard and get fulfillment out of it? Some of the parents don't even seem to like it so it's not a stage mom thing! FUCK!
JOE'S PICKO: The Sword and Shield in Monster Hunter.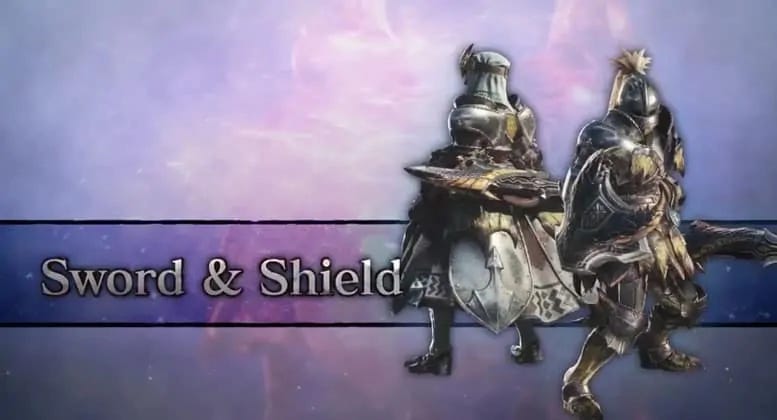 I've been playing Monster Hunter World again and I need you to understand that the weapons in this game are patently insane.
The Gunlance is a lance that's also a big revolver that shoots shotgun shells. The Insect Glaive is a bladed pole vault that comes with a Tamagotchi beetle homie that sucks essence from monsters (???) and feeds it to you like a baby bird. Greatswords are knives so large that after swinging it you have to nap. The Switchaxe is a weird machine that transforms from axe mode to sword mode when you fill up a bar that I don't understand. The Hunting Horn is a big tuba you can use to play ska or crush a huge bird's skull.
Such weapons are decadent and evidence of a society in decline. I am not new to Monster Hunter games but I've used Sword and Shield (SnS) almost exclusively because it's a weapon for calm geniuses who don't get horny.
The in-game description for the SnS is that it's a well-rounded weapon. You might take that to mean a nice mix of offense and defense because it has a shield. No. The shield absolutely sucks for blocking. Once I was playing with a buddy and a huge dragon hit me with its tail and knocked me 300 feet into a lake of fire. "You should have blocked that," he said. Here's the thing, asshole: I did.
The shield's main purpose is to give a monster brain damage. Jumping out of a tree and using the shield like a Loony Toons frying pan absolutely rules.
In a game with weapons so large you can barely walk with them drawn, the SnS is hysterically understated. SnS users are dropped into fights against beasts from hell equipped with a shitty machete and a dutch oven lid. At first, SnS feels like drilling chest passes in a game about dunking from half court but those old YMCA guys are right: fundamentals are important. SnS lets you focus on positioning, monster behavior and situational awareness while idiots with 30 foot long katanas get trampled trying to do big numbies.
Every weapon has some unique mechanic and for SnS it's that you can use your thumbs to easily reach into your pockets. That's it. You have to put away every other weapon first in order to use items but you with SnS you can eat jerky between attacks - it's way more useful than a big axe that turns into a sword.
Also key: the lightness of the weapon makes you very mobile. The Dual Blades let you briefly enter Sicko Mode and Arch Sicko Mode where you Naruto run but with SnS you are always moving with the calm urgency of someone late to a meeting.
Do all of these dope qualities make it a popular weapon? Fucking no! It is one of the least played weapons in the game! According to the in-game statistics, only about 4% of players use it.